Iwannabe a Revolootionary
Komrades! Atencion! Atencion! Marvelous news!
Our Dear Leader, the Lord High Messiah Barry Sotero (undercover code named as Al-Baraq Hussein Obama) has teamed up with the leader of Communist Party USA leader, Komrade Samuel Webb!
The Glorious Revolution is almost here! It will certainly be fully in place and in control in less than six months.
Read these profound words from Komrade Webb and be happy, be very happy - and encouraged - and tingling all over (especially with a tingling running up your leg):
Komrade Webb
We now have not simply a friend, but a people's advocate in the White House ... An era of progressive change is within reach, no longer an idle dream. Just look at the new lay of the land: a friend of labor and its allies sits in the White House.
Communist: Obama working to nationalize U.S. economy
Claims 'people advocate president' pushing through radical agenda
Aaron Klein @ WorldNetDaily
President Obama is "considering" a radical agenda to nationalize the U.S. financial system, the Federal Reserve Bank, and private industries such as energy and other sectors whose future is "problematic" in private hands, claims the leader of the Communist Party USA.
May the blessings of Barry be upon you,
Iwannabe a Revolootionary

Ivan Chetvyorty

Great, I'm off to my basement to hang myself...


Red Jim

I will march proudly at the front of the revolution clutching my little blue book in one hand and my shovel in the other.


Commissar_Elliott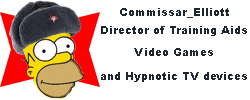 (off)
I dare anyone to show me the differences between the left and the communists.


DDR Kamerad

Hmmmm...I thought I heard a squeak...something about the difference between left and the True Path
tm
.
It is almost ThoughtCrime
tm
not to know the difference! But in the interests of the People's Edification
tm
it is merely a matter of degree. Most on the left tend to be anywhere between FDR and Sarkozy (who is considered right-wing only because he stands to the right of Chirac but is still quite left of Le Pen). In short, they are milquetoast wannabes, who like some of the benefits of the TP (apply to your ass thrice daily and either sing an '80s Toyota advertisement or the refrain of a Boston tune) but are not quite ready to commit themselves fully to the Cause
tm
.
And by full commitment, I speak of total dedication--your income, your lifestyle, your very thoughts. I am very pleased that things have been steadily been brought into line ever since the 1990s when we infiltrated Comrade Klinton into the White House (and managed to sneak her in while we placated her husband with bimbos).
I am also pleased with how well the masses are taking everything. They will suspect nothing until they find themselves scheduled for the Beet fields!
In the meantime, we will be treading peasants with impunity and curing headaches
mercilessly
mercifully while getting down with the Bolshevik Beotches in the Dacha of Delights and toasting one another with Vodka while feasting on borscht in the People's Republik of Amerika!
(off)
Is anyone really surprised? I mean, the signs were all there...a Marxist mother, friends with a domestic terrorist...not a bad time to be living in the most remote red state of the union.

Commissar_Elliott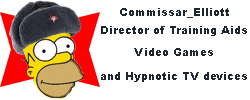 (off)
One note I'd like to add, the left is using "democrat","liberalism", and other "left-sided" type words as a front for their socialist/communist means for one reason and one reason only, Americans fought against communists for 50 some years. There are people on both sides who still oppose communism, unfortunately, there are those on the left who fail to see the democrat party's true intent.