Sugar Daddy Bear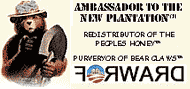 Comrades,

As you all know by now, our Politburo, being under seige by Tea baggin', redneck Rethuglikkkans, has been brought to its knees. The threat of a government shutdown appears to be imminent as our progressive friends in the Senate have seen fit to take the most advantage of this 'crisis' situation. Taking the sage advice of the Pinstripe Thug™ (now mayor-in-waiting of Shitcago) of never letting a good crisis go to waste, "Dirty" Harry Reid and his merry band of insurrectionists have been hard at work to foretell to us, the loyal proletariat, of what's to unfold.

~

"Dirty" Harry has been telling us that woman and Children™ will die. The issue of women's health is at stake as the cold-hearted Rethuglikkkans under the tutelage of John Boehner (that's pronounced BOW-ner) dig their heels further in protest to any sort of compromise. Skool lunch programs will have to shut down. Government employees will have to be furlowed "without pay" *wink* and relagated to their 54" flat screen TVs during their furlow with backpay forced to watch [D]oprah, Jerry Springer, or the endless "Judge" shows on all afternoon. How humiliating!

Our hard-working progressive Senators also don't believe in paying the Military in the event of this shutdown (but they certainly believe in paying themselves). But they do believe in funding Planned Parenthood and nothing is going to break their resolve in making sure that Planned Parenthood receives every single dime they are owed for their campaign contibutions. However, if Mr. BOW-ner has his way, along with his raging Tea Baggin' freshmen, Planned Parenthood will not be able to continue their "family planning" and "women's health" programs. Making sure this funding doesn't get deep-sixed is vastly more important than the Military receiving their paychecks.

For you see, dear comrades, Death is not an arbiter of men, or unborn children. But when the funding stops; when the budget runs aground and compromises lock horns, even Death takes a holiday.


Comrade Whoopie

We've WON! Rejoice comrades. I'm sure you hear the church bells ringing across the land and the crackle of fireworks. Obama just spoke and he could barely keep the smirk off his face.

Boehner has folded like a cheap lawn chair. He's accepted a mere $40 billion in cuts. Best of all he agreed to allow funding for Planned Parenthood come up for a separate vote in the Senate (of course you know Uncle Harry and his boys will pass it and why not, they won, why should they compromise?)

Planned Parenthood will continue to be a money laundering operation to divert taxpayer money into Democrat election coffers. HURRAY!!!!

Best of all, now Obama can take Michelle and the kids to Williamsburg, VA for the weekend and then in May it's off to Europe for another family vacation.


Sugar Daddy Bear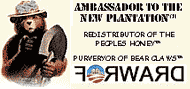 The MOST important thing is Dear Leader won't miss his family vacation with MOO-chelle and the brats! Nothing like when a plan comes together!


Kelly Ivanovna/келя ивановна
I'm so happy to learn that the new Rethuglikkans we were so scared of are a bunch of wimps.


Grigori E.R.

I'm with Comrade Whoopie, there should be Church Bells ringing, little children singing, singing praises to the Obama. The GOP is cringing, their hands they are wringing, lamenting for what could have been.

Sorry Comrades, I tend to break in to rhyme when I am really, really pissed. Nothing to do with our glorious victory, no, it's another matter. Usually when I start rhyming, the entire NC Kollective heads for the hills.

The GOP controlled House? Stupid wussies! This is no shallow victory Comrades. It was an extremely high stakes game of poker. Both sides were "all in". At stake was the future of millions of lives and the GOP's credibility. The pathetic, bags of empty campaign promises folded against a hollow, laughable bluff.

The path to the Glorious Progressive World of Next Tuesday is once again clear Comrades. The House GOP has shown what they are made of, but of course we already knew that.


General Confusion

Comrades,

We must remember that Speaker Bo'ner is a professional politician who has had his backbone removed since going to DC. His loyalties lie in whichever way the political wind is blowing.


Apparatchik Unkulturny

Perhaps now, Dear Leader can take his much-deserved and well-earned vacation to The Peoples Collective of Williamsburg. How long can anyone work without a break? (And this doesn't include you beet-pulling proles, only our Masters Leaders Into The Heroic World Of Next Tuesday...) Both Won (as an apparatchik, I am allowed to omit "The" from His full name) and His Selfless Wife must be exhausted at this point! A vacation is just the recipe to bring back His poll numbers eagerness to battle the hated Rethuglikkkans!


Sugar Daddy Bear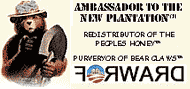 Unkulturny,

Indeed his selfless wife is exhausted: So many $100 Wagyu steaks... so little time! And the time grows shorter and shorter in between each excursion. You know the saying, "Out of sight; out of mind", and the more he's out of sight, then hopefully he can count on his useful idiots, er... drones.... no no, his followers...yes, his followers to have the memory span of an infant as pertaining to the past 3 years, and rally them up with some radical golf scores just in time for the campaigning that never ends. I love it when a plan comes together!