TheLCABroadside

A Fellow Traveler
Or, Department of Democratic Party Security.


Proletarian Robot

Comrade:

I like your website!

The symbol would be more accurate if it read "Department of Homeland Screws -Me!"


edgarinventor

Comrade Whoopie

Good work comrade CABroadside. You are an asset to the Party. Prepare to be purged.


Terry_Jim

Nice, but, ...too many stars there.
There can be only ONE State.

Other wise, perfect.
President ObeyMe will love it.

I especially like that there are no mean, evil, Bush-like
war arrows in the joyful bird-of-peace's left talon,
just pointy, feathered olive branches of harmony and love.


Commissar Obamissar V

I just listened to a fantastically Progressive podcast called Blast The Right (episode 100, 28 June 2007) in which host Jack Clark denounces MissHell Milkin for making the audacious statement that if she knew her neighbor was an illegal immigrant and knew that person's employer knew he was an illegal immigrant, she would inform the Immigration and Nazification Service, now known as ICE. Little did he know what his beloved Progressives would do less than 2 years later...


Komissar al-Blogunov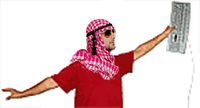 People's Bumper Sticker: According to the Department of Homeland Security, You're Following a Terrorist.