Mikhail T. Kalashnikov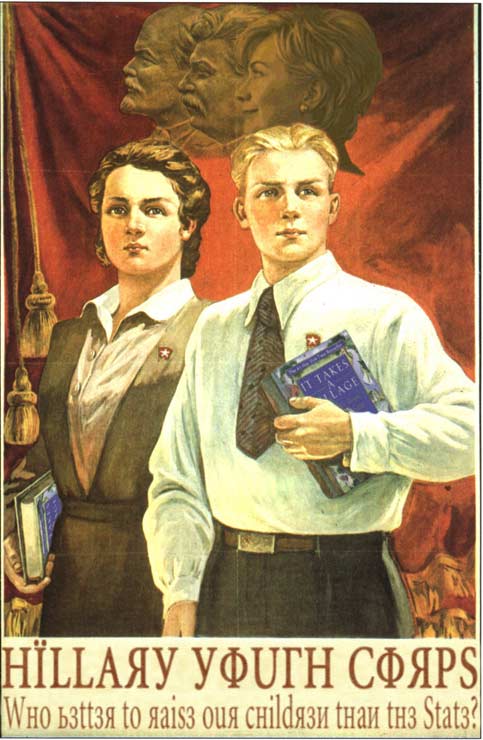 For ten years now, The Hillary Youth Corps movement has been continually weaving in new generations of young workers and youth attracted to the proletarian movement, training another generation of fighters. The responsibilities and structures that young socialists adopt today flow from a long tradition of Marxist youth organizations.
The young socialist movement came into existence as a result of the steadily increasing capitalist exploitation of young workers in all factories and workshops and in home industry, which only lead to their spiritual and physical degeneration; and also of the growth of bourgeois militarism, whose burdens are born above all by working-class youth. The movement was a reaction against attempts to poison the minds of young workers with bourgeois nationalist ideology through the schools, the
press
, bourgeois youth organizations, and so on, and against the tendency of most of the
social-democratic
parties and the
trade unions
to neglect the economic, political and cultural demands of young workers and the special psychological characteristics of the younger generation.
As a result of the imperialist war and the positions taken towards it by social democracy almost everywhere, the contradictions between the bourgeois, the social-democratic parties and the international revolutionary organizations inevitably grew and eventually led to open dissent. The living conditions of young workers sharply deteriorated; there was bourgeois mobilization and military service on the one hand, and, on the other, the increasing exploitation in the munitions industries and militarization of civilian life. The most class-conscious young socialists opposed the war and the nationalist propaganda. They dissociated themselves from the social-democratic parties and undertook independent political activity.
In their struggle against the war, the young socialist organizations were supported by the most
dedicated
revolutionary
groups
and became an important focus for the revolutionary forces. In most states no revolutionary parties existed and the youth organizations took over their role; they became independent political organizations and acted as the vanguard in the revolutionary struggle.
In the above sense, the slogan of Clarity and Action sums up the attitude of the Hillary Youth Corps. While stressing education and class struggle activity, a youth movement, socialist or otherwise, cannot live by these alone, especially so if the socialist youth organization is to attract the wider strata of the youth to its own banner or around its bona-fide sympathetic auxiliary bodies. Social, sport, and cultural activities need to be systematically developed. The youth movement needs to build its dramatic and musical groups and like mediums which attract the youth. The insidious and malevolent influence of the bourgeois sport movements, both professional and amateur is immense, and systematic efforts are required to counter-act this influence on the mass of American youth.
Hillary Rodham Clinton in 'It Takes a Village'
We cannot move forward by looking to the past for easy solutions. Even if a golden age had existed, we could not simply graft it onto today's busier, more impersonal and complicated world. Instead, our challenge is to arrive at a consensus of values and a common vision of what we can do today, individually and collectively, to build strong families and communities....We can read our national character most plainly in the result.
Alison Hornstein, a student at Yale University, described her moral upbringing in relation to the September 11 attacks in Newsweek's "My Turn" column:
"Student reactions expressed in the daily newspaper and in class pointed to the differences between our life circumstances and those of the perpetrators, suggesting that these differences had caused the previous day's events. Noticeably absent was a general outcry of indignation at what had been the most successful terrorist attack of our lifetimes. These reactions and similar ones on other campuses have made it apparent that my generation is uncomfortable assessing, or even asking, whether a moral wrong has taken place.
"I spent 14 years at a public school in Manhattan with students who came from a variety of ethnic and socioeconomic backgrounds. I benefited immensely from the open-minded curriculum. But being taught to think within a framework of moral and cultural relativity without learning its boundaries has seemingly created a deficiency in my generation's ability to make moral judgments."
Hillary Rodham Clinton in 'It Takes a Village' further
One of my favorite chapters of It Takes a Village is the one titled "The Best Tool You Can Give a Child Is a Shovel"...
...In the past five years, life has piled some serious challenges on this country, and we've also dug ourselves into some very big holes. Every citizen...must become part of a renewed commitment to our children and to a brighter future for them. I believe Americans...want to do better, and I believe the idea of the village and its shared responsibility for our children is even more essential today than it was in 1996. There's no question in my mind that we can respond to these challenges and raise a generation that is strong, smart, and secure -- in our own communities and internationally.
How can we renew our commitment to our children and create a brighter future for them in the reality of today? The founding of proletarian youth cadre across the nation results from several factors:
The Uprooting of Race Discrimination
*
In the immediate aftermath of the '08 conquest of power, while the material basis for racism will have been smashed, and while we can safely assume that the heroic role played in the revolution by Afro-Americans and other third world peoples will have deeply shaken the racist ideas of many whites, some backward attitudes will persist for a brief time. During this period, we can expect forthright, decisive action by the revolutionary government to prevent the manifestation of race prejudice in any overt act of discrimination, as well as to rapidly remove existing inequalities in education, employment, housing and medical care. Many of the revolutionary leaders in the new government will be third world people. This will also be the time when Blacks, Chicanos, and other minorities will be able to decide whether they want to partition the socialist republic into separate states or join with whites in a singe, multinational revolutionary state. Whatever the decision each group makes, bonds of solidarity will displace mutual antagonisms as all sections advance toward communism and new generations are born into rationally and democratically planned economy of abundance.
The Family
The nuclear family will undoubtedly continue briefly after the overthrow of capitalism on a relatively broad scale. But even in this initial stage, we can predict drastic changes in the role of the family. Rapid development of a household industry, communal kitchens and dining rooms, free automated restaurants, free day care centers and free boarding schools will liberate women from the drudgery to which they are assigned under capitalism, allowing them to enter any field of work they choose, and making possible their active participation in politics on an equal footing with men. As with third world people, it is likely that many of the revolutionary leaders will be women.
Marriage will lose its legal sanctity. It is possible that legal (recorded) marriages and divorces could be handled by dropping a postcard in the mailbox. The prohibition against abortions will be scrapped and there will be free access to birth control for everyone beyond the age of puberty.
Over time, it is reasonable to expect that monogamous marriage and the nuclear family will wither away along with other institutions carried over from class society. Children in a socialist society will not "belong to" one set of biological parents, but will look upon all adults as their mothers and fathers. In turn, adults will view them as children of the whole community. During the years they require extensive care, training and affection, the children will be raised by professionals who choose to specialize in such work.
Health and Medicine
The workers' state established by the revolution can move immediately to abolish on a world scale the majority of suffering caused by disease. This is so because the problem under capitalism is not - in most cases - that there is no known treatment or means of prevention, but instead that it is not profitable to make these available to the poverty-ridden victims. Beyond the abolition of diseases for which the cure is already known, vast resources and energy freed by the elimination of waste and military spending will make possible conquest of diseases for which the cure is not yet known. The overwhelming emphasis of medicine will shift from treatment to the prevention of disease and the maintenance of good health. The mystique of American medicine which leads many doctors today to believe they rank somewhere above mortals and below the angels will disappear as more medical schools, training centers, clinics and hospitals are built, and as tens of thousands of revolutionary youth sweep past the ruins of arbitrary limits on the number of doctors to embark on medical careers.
Medical care will be one of the first things made free to all by the revolution.
Housing and Transportation
A major campaign of the victorious American revolution will be a crash program to provide every member of the society with a decent place to live. This will mean the construction of millions of light, clean, modern apartments to replace the decaying, squalid, pest-infested living quarters of people in cities all over the U.S. Along with housing, socialism will provide free, safe and efficient mass transportation systems to reduce reliance on automobiles.
Reclamation and Conservation
The garbage the capitalists have dumped into the oceans, rivers, earth and atmosphere will pose a challenging problem to socialist science. We may suppose that great attention will be devoted to restoring and maintaining ecological balance. In line with this, there will undoubtedly be imaginative experimentation designed to find the most desirable combination of features from the rural and urban environments for human habitation.
Police and Prisons
Capitalist police, along with the whole capitalist state apparatus, will be smashed by the revolution. Workers' councils will exercise police power through a workers' militia so long as the exercise of police power remains necessary. Once the counterrevolution has been solidly defeated, capital punishment will be abolished forever. The horrible prisons existing under capitalism, while they may be used temporarily for those who oppose the revolution by force, will begin to be replaced immediately with rehabilitation programs that allow most law violators to remain at home during their sentence or at pleasant reform camps staffed by skilled psychologists and social workers. At these camps or resorts, prisoners will have privacy in their quarters and be allowed regular visits by their wives and husbands. They will have opportunity for education, recreation and productive work at the going wage. All those serving time when the revolution comes to power will have their cases reviewed and be released or reassigned to a resort (The wardens and guards of capitalist prisons may be among the first assigned to these reform resorts.)
The capitalist courts will be junked in favor of workers' tribunals which will act according to a new and simplified code of social justice. Bourgeois law books will be sent to the museum.
Eventually, even this softened coercive apparatus will be allowed to wither away, as the concept of crime recedes into the past.
Education
Socialist schools will be radically different from the regimented, authoritarian schools we see in capitalist society today. Students and faculty will jointly administer the schools, just as they will participate in the government of society as a whole through their elected deputies to the soviets or councils that will administer the state and economy. Along with an immediate and continuing upgrading in the range and quality of course material, we can project more free time for students all the way down to elementary level for self-study of topics they wish to pursue, more boarding schools, more freedom for students to travel from one geographic area to another. Of course, there will be free access to education all the way to the postgraduate level.
In addition, there will very likely be special programs conducted for everyone – to teach languages for example, an area of backwardness in this country that will need to be remedied in an internationalist society.
The Military
A precondition for the victory of the revolution will be the revolutionary temper of the men in the armed forces; the revolutionary reorganization of the army, navy and air forces will be part of the actual process of the revolution. Once power is secured, the new state may want to maintain at least part of these mighty forces under arms long enough to discourage resistance by the ruling classes in other nations to the revolutions that will occur there in the wake of the American success. After that the socialist societies of the world can begin dismantling their military operations together, and begin looking for means to dispose of the heinous chemical-biological-nuclear weapons stockpiled by imperialism.
Production and Distribution
The revolution, in coming to power, will nationalize the major means of production and exchange, bringing into existence a new mode of production, based on social ownership of the means of production and collective appropriation of the social surplus product. While workers will continue to be paid wages in money to exchange for commodities during a long initial period, a socialist mode of distribution will eventually replace the old method as abundance overtakes scarcity and automation and cybernation eliminate human labor from the sphere of production. It is entirely realistic to speculate that, within a century after the insurrection, money and commodity production will have withered away as absurdities in an economy requiring no human labor and producing more than enough to satisfy the needs of everyone.
Long before this happens, workers will have ceased to have to pay individually for rent, food, medical care or transportation. The length of the work week will be sharply reduced immediately and very soon after that cut in half. The management of shops and factories will be in the hands of those who work there. Again, more than administering their own workplace, these workers will also participate in the administration of the whole economy and society through their elected delegates.
Socialist Man and Socialist Woman
The kind of men and women socialized in a society free from material scarcity and the need to labor as a condition for survival will be like those written about by Maxim Gorky in Mother: "There will come a time, I know, when people will take delight in one another, when each will be a star to the other, and when each will listen to his fellow as to music. The free men will walk upon the earth, men great in their freedom. They will walk with open hearts, and the heart of each will be pure of envy and greed, and therefore all mankind will be without malice, and there will be nothing to divorce the heart from reason. Then life will be one great service to man! His figure will be raised to lofty heights – for to free men all heights are attainable. Then we shall live in truth and freedom and in beauty, and those will be accounted best who will the more widely embrace the world with their hearts, and whose love of it will be the profoundest; those will be the best who will be the freest; for in them is the greatest beauty. Then will life be great, and the people will be great who live that life."
The First Step
The kind of freedom Gorky wrote about will only be possible in a society like the one sketched above. It is impossible under capitalism. Freedom under capitalism consists of consciously recognizing the necessity for socialism and dedicating your life to its achievement. In embracing that freedom, you help the entire family of mankind take the first step from capitalism to communism. You can take that step yourself by joining The Hillary Youth Corps.
_______________
*The last half of the article above was written by Lee Smith of the Young Socialist Alliance, titled "When America Goes Socialist". It first appeared in the November 1969 issue of Young Socialist magazine.

Sea-Bass

In School Suspension…Becomes…In School Success Center  (This is True)
I had dinner with my creators this evening, one male that goes by Mike and one female that goes by Lisa.  These two also created a female sibling that goes by Jessica.  I was in the living room watching football when I over heard my sibling talking about her job, she is an evil left-wing indoctrinator of the children.  My sibling was talking about In school suspension or ISS.  It caught my attention because I spent many a day in this place.  Jessica was saying that the school board had decided to change the ISS to ISSC.  She was going on and on about how great of an idea it was to change it, so I finally asked her what the "C" stood for; she told me that the "C" stood for center.  I thought to myself "In school suspension center"...that makes no sense.  I asked my sibling how many meetings did the school board have to add "center" to In school suspension.  My sibling corrected me
..."It's In School Success Center."  
I stood dumbfounded for a couple seconds...Then the Laughter spewed out and the arguing between me and my sibling began.  I will spare you the details.  
I did however steal one of her documents on the subject.
Quote:
Subject: ISSC

FYI:

I received an e-mail from a teacher who had an excellent question that I felt I needed to address and express to the entire (Middle School Name)

Question:  What happens to a student who doesn't buy into the ISSC program and simply refuses to do any work, is the student suspended from school?  Do we give zeros for work that is not returned?

Answer:  After all attempts to stimulate an effort, a recommendation to extend that student's time in the center is made and parents are called.  Usually, (well at least today) a student will decide to do his/her work because they realize that the only way out of ISSC is to complete all class work.  When it becomes evident that cooperation from the student is unlikely, suspension is discussed with the child and parent.  Only after all possible interventions have failed will a student actually be suspended.  If a teacher receives partial assignments or no assignments at all the teacher is at liberty to give that student zeros.

Name

ISSC
another...
Quote:
Subject: ISSC

Dear Teachers,


Thank you so much for your support in supplying me with emergency and non-emergency lesson plans for students who are placed in ISSC unexpectedly. As a result, it allows things to run more smoothly. Also, please be aware that although I tutor all students in all subject areas, sometimes it truly becomes difficult to keep all students on task and to check and review all lessons with students who are not intrinsically motivated. In all honesty, on occasion it becomes a stand-off between me and the student(I usually win of course). However, if you happened to receive an assignment with my initials on it and there are many incorrect answers it simply means that it took a great deal of effort for me to convince the student that he/she had to pick-up a pencil and give an effort to complete the assignment and my time with that student ran out due to the fact that other students were waiting for assistance.


Thank you for your understanding and cooperation.

Name

ISSC

Premier Betty

The poster kinda reminds me of the old Communists for Kerry (KFC, I mean, CFK) posters, but with Hillary instead of Non-Person K.