GAIA Minister Neytiri

GAIA Minister Neytiri Naked Truth Report:
Disney World Adds AVATAR Land to Teach Kids Global Warming
Comrades,
We are on the verge of being able to successfully evangelize each new generation into unshakeable faith in the indisputability of the Science of Anthropogenic Global Warming by virtue of my Spiritual Father, James Cameron, having now partnered with the Walt Disney Company for Disney World, DisneyLand, and all other Disney Parks to add an exciting new "AVATAR Land" (or, perhaps, to be titled "Pandora Land" or "AVATAR Kingdom") to enable us to have the Nearly Naked Na'vis "teach the children" to "teach their parents" that it's a Crime Against Nature to be a Denier that humans are overheating Mother Earth.
~
Behold:
There already are edcational videos about this on YouTube:
We (James Cameron and I) have already succeeded in capturing the minds of most young men under 40 to make them faithful followers of what SuperKommissar Maksim brilliantly labeled as "Goremonism" as a term of endearment for the Movement that has a steadily increasing number of followers willing to contribute the fruits of their labor to help Comrade Gore spread the faith to the many remaining Doubters and Deniers.
Soon, Disney World visitors will be able to make donations directly to Comrade Gore when entering, while visiting, and/or when exiting AVATAR Land-- Indeed, my 3-D (or is it 3-Double-D) image will be prominently displayed to remind the faithful (and also inspire new converts) of the need to contribute to Gore's Carbon-Credit-Indulgences Foundation:
Furthermore, don't forget to start planning now to seek extention of your unemployment benefits so you'll have ample time to participate in the "Green Spring" being led by Comrade Gore:
Also, given the ongoing campaign by the Global-Warming Deniers against the noble, idealistic enterprise known as "Solyndra" (see below) ...
... we must double-down on our efforts to keep Uncle Same tied down to prevent resumptions of assaults on Mother Nature:
Peace Out--
--GAIA Minister Neytiri

Krasnodar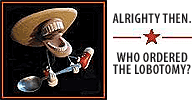 Holy Crap !
( T.M.I.
........
Where's the Maalox ? )

Dedhedvedev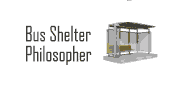 The brochure for Advanced Studies in Global Warming should read "Degree: B.S. in Pandoran Pedantry."


Superkommissar Maksim

GAIA Minister Neytiri
of what SuperKommissar Maksim brilliantly labeled as "Goremonism"

As much as I'd like to take credit for coining the pharse
"The Church Of Reformed Latter Day Climatologist AKA The Gormons"
, I can't. I don't remember which Cubist is responsible, it may have been Betinov, or Zampolit Blokhayev, not sure. I just stoled it, for the Children™ of course.

R.O.C.K. in the USSA
Does anyone know what actually happened to Algore's face? It looks more and more like a wedge - maybe of some kind of cheese?


Commissar_Elliott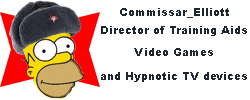 I thought this is why we would
force
require the children to view the Al Gore flick
An Inconvenient Truth
in school.
I guess too many kids were bored to death with Al Gore's rambling and babbling. Of course, do you think they want to be educated while at Disney World/Land? Better yet, do you think with all the stimulation, the kids could even have the ability to learn?

Krasnodar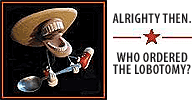 Learning is so yesterday.... we're talking about indoctrination here.

Our children's future cannot be jeopardized by an actual education, for this leads to adults making decisions based upon rationality and reason. If that were allowed to happen, what do you think the fate of The People's Party would be, Comrade ?

Now put down that doughnut and attend to your assigned rows of beets.