Captain Craptek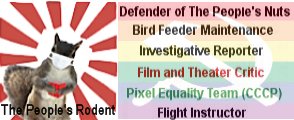 US News & World Report:
The Department of Defense is blocking online access to news reports about classified National Security Agency documents made public by Edward Snowden. The blackout affects all of the department's computers and is part of a department-wide directive. "Any website that runs information that the Department of Defense still considers classified" is affected, Pentagon spokesman Lt. Col. Damien Pickart told U.S. News in a phone interview.

According to Pickart, news websites that re-report information first published by The Guardian or other primary sources are also affected. "If that particular website runs an article that our filters determine has classified information... the particular content on that website will remain inaccessible," he said. Pickart said the blackout affects "millions" of computers on "all Department of Defense networks and systems."
* * *
A spokesthingie told this reporter that,
"Yes, we can filter what is deemed classified information from DOD computers - but you have our solemn oath that we won't stray outside the boundaries set by the president."
He refused to elaborate.
And in related news, comrades, Dear Leader forges ahead in His relentless battle with industry and individuality on all fronts simultaneously! On the ground, in the air, under the sea, it's Forward-Forward-ever Forward. Military networks now, then private, then finally onward to the global Web! All must be cleansed of thought-crime generating reactionary filth.
* * *
InfoWorld: Thanks, NSA, you're killing the cloud
"As we migrate to public clouds, the most vocal protestors against this shift also happen to believe the data is at more risk for government monitoring. While you can show them mechanisms and statistics that demonstrate the value of leveraging public clouds, the "NSA scandal" will provide more fuel for the already cloud-paranoid."

Red Rooster