child of chernobyl

]So GW Bush had a Dunking booth and was called a war criminal. Barack H Obama has a kill list. and ????

Opiate of the People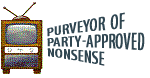 Whew, that's a relief! When I saw the title of this post, for a minute I thought Mayor Nanny Bloomberg had banned the dunking of donuts or something.