Confederacy of Drones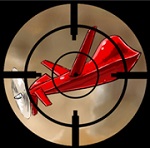 More at
Confederacy of Drones
.
A recent revelation involving the entire music industry places most musicians and music producers in jeopardy of being banned from all radio, TV and live performances.
Confederacy of Drones
, a snarky, unknown and frankly pitiful excuse for a website, uncovered grainy footage of a musical performance that could only be described as an astounding display of insensitive hate speech set to music.
These celebrities brazenly sing about a Christian event that falls unabashedly during the Happy Holiday Season.


Bono, Paul McCartney and Freddie Mercury
caught on camera

Hidden away in an underground bunker, similar to Hitler, celebrities excitedly orchestrate an eerie sound of bells, bongos and a well rehearsed melody. We only discover upon careful listening that the song is about Christmas, God and praying. If you have the stomach and dare to listen carefully to the lyrics you'll hear things like:


"
But say a prayer, pray for the other ones"


"
Well tonight thank God"


"
Do they know it's Christmastime at all?"


Sting walks in shame following video release.
The dog whistles in this tune are more like trumpets drowning out the reason for the season:
being away from work, fighting shoppers, getting even fatter and decorating the holiday tree
.

Upon being confronted with his disregard for common decency, Boy George explained, "
As a kid, I didn't understand the power of certain words and how they can hurt."


Kevin Spacey joined the world of the woke when he said, "
At least I didn't do that!"

P.P. Gogol

Whinin' Bono and The Libralz
"... orchestrate an eerie sound of bells, bongos ..."
Not sure what have antelopes got to do with it, but that's pretty eerie, all right!

Red Square

A brief fragment of security camera footage has been declassified for show trial purposes only.