Red Square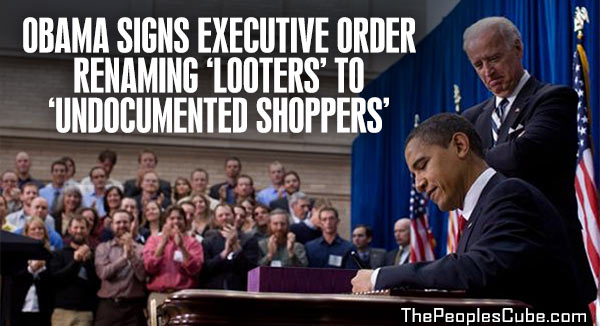 Obama issues executive order renaming 'looters' to 'undocumented shoppers.' We see this line everywhere now, but it first appeared on the People's Cube
Twitter
at 9:16pm on Nov, 24, 2014 - the memorable night when the nation was holding its collective breath awaiting the Grand Jury decision on Darren Wilson's indictment, while biding its time by playing the
#FergusonDecision
hashtag game on Twitter.

Red Square

Here's the same Tweet - embedded, live, and interactive:
#FergusonDecision Obama issues executive order renaming looters to Undocumented Shoppers #tcot

— The People's Cube (@ThePeoplesCube) November 25, 2014

KOOK
Comrade Red Square,

Your "Undocumented Shoppers" documentary is one of your masterpieces.

Don't forget, Michael Brown was an undocumented shopper, and when the selfishly capatalist shop-owner demanded payment when he discovered Brown's undocumented shopping and Michael Brown was unable to produce his "papers" (i.e., a receipt), Michael Brown -- as a hero of the Anonymous movement -- knocked aside that greedy member of the 1% as though he were a rag-doll.

Brown had taken the merchandize only because he needed some of the cigar-sweets for unrolling and re-rolling with more appealing contents. The need of the one obviously outweighed the need of the greedily selfish one-percenter.

--KOOK


Zampolit Blokhayev

Must redistribute to certain counter-revolutionary troglodyte knuckle dragger on Peoplesbook Facebook.


HAIL OBAMA 2016!!!


Lev Termen
KOOK
... when he discovered Brown's undocumented shopping and Michael Brown was unable to produce his "papers" ...
One is reminded of this litttle contretemps in
The Fifth Elephant
:
The fatter of the two hesitated, and then held out his hand. "Pisspot," he said.


"Inigo?" said Vimes quietly, without turning his head.


"Ah," said Inigo, after some muttered exchanges. "Now the problem seems to be Sergeant Detritus. No trolls are allowed in this part of town during the hours of daylight, apparently, without a passport signed by their ... owner. Uh ... in Bonk the only trolls allowed are prisoners of war. They have to carry identification."


"Detritus is a citizen of Ankh-Morpork and my sergeant," said Vimes.


"However, he is a troll. Perhaps in the interests of diplomacy you could write a short -"

"Do I need a pisspot?"

"A passport ... No, Your Grace."

If only Michael had been carrying

a

pisspot!



Comrade Binary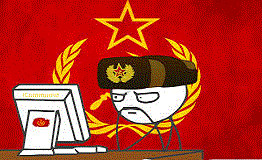 Racist AmeriKKKan pigs talking about looting. No, there were just some door-busting deals in Ferguson to kick off the Black Friday season! These undocumented shoppers were doing their part to help Ferguson's economy!