Opiate of the People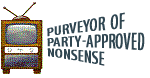 Shocking data recently released by the University of East Anglia Climatic Research Unit
reveals that the rising trend in world temperatures ended in 1997, thus confirming the dire predictions of Climate Change researchers regarding the effect of human activity on the earth's ecosystem. Based on readings from more than 30,000 measuring stations, the figures show the planet has not warmed for the past 15 years and suggest that we could even be heading for a mini ice age to rival the 70-year temperature drop that saw frost fairs held on the Thames in the 17th Century.
Climate Change Theory proponents were quick to note that CO2 levels have been rising unabated during this period, and the theory predicts excess amounts of this pollutant would draw heat out of the atmosphere and into outer space, cooling the planet. As the graph above shows, the earth's temperature temporarily warmed during the last decade, thanks largely to the after effects of the pro-environment policies of US President Bill Clinton. But, after years of neglect by his successor, George Bush, the planet began to cool again. The emergence of environmental champion Barack Obama helped to reverse that trend briefly, but the bias to cooling once again resumed after the US congress was hijacked in 2010 by anti-science religious zealots.
Climate scientists took issue with deniers' claims that they had predicted planetary warming, noting that the theory specifically predicts Climate
Change.
"Look, if the earth's termperature goes up or if it goes down, that's a
change
and that's what we have been predicting!", said Michael Mann, lead climate researcher and professor of settled science at Penn State. "I mean, if the temperature stayed the
same
for 15 years, we would be wrong and I would be the first one to admit it. But I'm never wrong. My grant depends on it."
The UN's
Intergovernmental Panel on Climate Change
(
IPCC
) immediately jumped upon the findings, demanding that rich countries immediately begin shipping blankets, warm clothes, heat-generating devices like Mercedes Benzes and flat-screen TVs, etc, to poor countries to try and alleviate the effects of the global temperature drop on these nations. UN Secretary General Shute Da Moon proposed a new global conference to discuss the new findings and possible solutions, to be held in a warm place like Hawaii so as to avoid the deleterious effects of the climate changes on the delegates. "A lot of warm food, like from luaus, and warming alcoholic drinks should help us stay warm, too!" said one eager delegate. "Don't forget hookahs" said another, undoubtedly referring to Middle Eastern water pipes.
The world's preeminent climate scientist, Al Gore, commented on the findings saying he was satisfied
with himself
that the predictions made by his best-selling book and Oscar-winning movie were being borne out. "I've been warning these denying oil company shills
for years
that we would end up seeing polar bears frozen in blocks of ice. Looks like I'm getting the last laugh... HA!" Gore vowed to keep up the fight to change hearts and minds... "Whenever you see a private jet on afterburners, headed to a well-compensated speaking engagement on the climate crisis and generating more heat to keep the planet warm... I'll be there!", said Gore. Let's hope so. It's getting cold out. Brrrr!

Proletarian Robot

Comrade Opiate: Thanks for the Current Truth Update. I strive to continually re-enforce to the proles to remember that if it's cold, hot, drought, monsoons, blizzards, earthquakes, tsunamis, forest fires, urban decay and herpes, it's all due to global warming……..


Zampolit Blokhayev

The other day, my kitten jump up onto the couch, laid down beside me, curled up into a ball and took a nap. Obviously she did this because she was cold. This is the strongest evidence to date that I have Global Warming is real! It's either that or she was trying to get away from the evil Bu$hitler. And we know that he thinks "Kitties is good eatin'!!!". Especially with Barbecue sauce.

--
Hail Obama 2012!


ThePeoplesComrade

Further proof of human contribution to adverse global change..

Shovel 4 U