ObamaMarx2008
Comrades, look what I found. This is sure to be the hottest fashion trend under our beloved leader Obama's rule.
http://www.commieobama.com/

Stalin for Time

Glorious!

However, I see that our messiah's skin has grown even lighter while he is modeling this most progressive headwear. Will this happen to all wearers? I fear that if I don this politically correct garb, my color will be so light that I will turn clear.

This could also be a good thing. I will become my own hyphenated race! Clear-Americans! Since I will be the only member of my own minority, I will demand that I be treated separately, like all other minorities.

Send me one of these, comrade! I want to start my transformation as quickly as possible!


Opiate of the People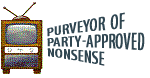 I hope no animals were used in the making of that hat. And if they were, they had better be Republican animals.


Red Square

You can't be a one-man minority, Comrade Stalin for Time.

Enemy of the People Ayn Rand said that the smallest minority is an individual. Is that what you want, Comrade? Hmmm? Individualism? Betraying poverty of ambition, aren't you now?

The Great Hero of the People Barack Obama said that you must hitch yourself to something larger and become a mote in the vast collective in order to achieve any sort of fulfillment. Because our individual salvation is in our collective salvation.

Which means, cover your clear skin with Rust-Oleum EpoxyShield Semi-Gloss Light Floor Coating and join a group of comrades that compliment your tint based on a Party-approved palette of complimentary colors.


Sir Red Star(The Naughty)

Sniff Sniff Brings back wonderful memories of the Motherland, standing in the long lines for bread. driving my LADA, watching parts fall off.

I would like to support this capitalist, we should all raise an Bottle of leninade, to the old country


Union Boss

I'll take 4!!


Stalin for Time

Comrade Red Square, please forgive me. The sight of this glorious headwear made me giddy with the anticipation of showing my support for The One
TM
!
My re-education will surely rid me of any thoughts that would be similar to that evil, vile, capitalist princess Ayn Rand.
Is this color approved?