$.$. Halliburton



At the dawn of the Progressive era, Woodrow Wilson first inaugural address March 4, 1913 [italics mine]:



...Nor have we studied and perfected the means by which government may be put at the service of humanity, in safeguarding the health of the Nation, the health of its men and its women and its children, as well as their rights in the struggle for existence. This is no sentimental duty. The firm basis of government is justice, not pity. These are matters of justice. There can be no equality or opportunity, the first essential of justice in the body politic, if men and women and children be not shielded in their lives, their very vitality, from the consequences of great industrial and social processes which they can not alter, control, or singly cope with. Society must see to it that it does not itself crush or weaken or damage its own constituent parts. The first duty of law is to keep sound the society it serves. Sanitary laws, pure food laws, and laws determining conditions of labor which individuals are powerless to determine for themselves are intimate parts of the very business of justice and legal efficiency.

These are some of the things we ought to do, and not leave the others undone, the old-fashioned, never-to-be-neglected, fundamental safeguarding of property and of individual right. This is the high enterprise of the new day: To lift everything that concerns our life as a Nation to the light that shines from the hearthfire of every man's conscience and vision of the right. It is inconceivable that we should do this as partisans; it is inconceivable we should do it in ignorance of the facts as they are or in blind haste. We shall restore, not destroy. We shall deal with our economic system as it is and as it may be modified, not as it might be if we had a clean sheet of paper to write upon; and step by step we shall make it what it should be, in the spirit of those who question their own wisdom and seek counsel and knowledge, not shallow self-satisfaction or the excitement of excursions whither they can not tell. Justice, and only justice, shall always be our motto.


Wilson's speech is a showcase of how the leviathan that is crushing America began. It began with simply implementing what on the surface sounds perfectly reasonable, the implementation of special laws, different from the "old fashioned" laws (natural law), for the purpose of good sanitation, pure food, and labor laws.

The means by which the Progressives worked was to circumvent "old fashioned" separation of powers and throw out Natural Law and the making of law wherein someone has to actually be harmed, where they go to court, where harm has to be proved with evidence, and the accused faces the accuser. Instead the legislature became a court wherein the legislature decides harm has been done and then meets out punishment and issues dictates for prevention of said harm accordingly. (Imagine the State regulating your behavior so as to prevent you from lying or stealing.) In other words the legislature usurps the Judicial branch and violates the separation of powers. This IS the mechanism by which the Left has gained power. They have usurped the judicial system. It is what the entire Regulatory State is built on.

A hundred years after Wilson's speech we are so used to this system that no one questions the Regulatory State. After all, how can we trust people not to sell us tainted food without special laws?

Western civilization was only able to really thrive and people were only really able to posses their own lives on their own terms holding dear their own beliefs when the hard won lessons against tyranny were learned and implemented. One of the first lessons was that Natural Law prevented tyranny from raising it's ugly head.

Woodrow Wilson and the Progs make tyranny sound so reasonable.

There is no justice without Natural Law.


INGSOC

How else do you expect us to pay for this?:






Anyer Marx

INGSOC
How else do you expect us to pay for this?:






Red Walrus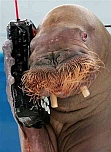 Wait wait wait...the fed didn't steal anything. It's totally obvious these 2 thugs were keeping more than their fair share of the "middle class dream" that Comrade Obama so often chants to us about. Therefore, since these 2 barbarians decided to take more than what was needed to call them middle class, and decided to become "upper middle class", they need to be taken down and taken down hard. They are lucky the IRS hasn't shut down their den of capitalist filth...these 2 greedy animals make me sick.


Captain Craptek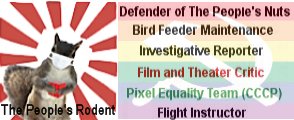 Extracting profit for the honor of supplying goods to the masses is, well..., not nice. I denounce this behavior and call for an immediate nationalization of all privately owned retail operations. Some exceptions will be granted, of course, by the grace of Dear Leader. All others will bend over and accept progress as required.


RedDiaperette

And did you see all that inventory piled up on shelves and stands? Filthy bourgeois shopkeepers hoarding goods for "customers" instead of spreading wealth around.


KrystynaKorrekted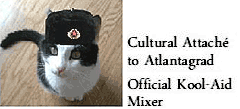 RedDiaperette
And did you see all that inventory piled up on shelves and stands? Filthy bourgeois shopkeepers hoarding goods for "customers" instead of spreading wealth around.
Looks like
someone
needs to learn the fair and equitable Venezuelan model...