Chairman M. S. Punchenko

PROGRESSIVES MOURN THE LOSS OF ONE OF THEIR OWN
Betsy L. Angert of the Daily Kos



My heart aches. Of course I mourn the passing of the thirty-two Virginia Polytechnic University students, as do we all throughout the globe. Nevertheless, I cannot forget how my heart hurts for the thirty-third victim, the one the media never seems to count among those killed, Seung-Hui Cho. On April 16, 2007 thirty-three lovable and fragile individuals passed.

Red Square

I said it before and I'll say it again! Just as we all thought - turns out America failed him and his family! America-the-butler slacked off and didn't service him right, and then killed him and all the others to cover it up. The butler did it! The butler did it! The evil America-the-butler did it!

Just as more immigrants arrive every day by plane, ship, car, and fence, is America-the-butler capable to fulfill their expectations of bette life? No, America-the-butler is going to MURDER all of them just like it murdered Cho and the rest of them!

Hollywood was right! Hollywood is always right! The butler did it!


Hillary

Paging Dr. Kurgman
Paging Dr. Kurgman
Paging Dr. Kurgman
Paging Dr. Kurgman

You're needed in the operating room stat.
We have hemorrhaging bleeding heart.

H08


Premier Betty

FIRE the butler! Only by replacing the butler will everything be solved.


Chairman M. S. Punchenko

There are no other butlers, Betty. Do you really want us to have to move back to Russia??? I'm not going back... I refuse to go back! I left Russia once utopia was shake-downed by Reagan... OK? I left there in order to find a new host country with a Communist Party so that I may continue to leech off of the system... I'm not going back and I sure the hell won't "fire" the butler who is ALWAYS giving me OPM!

I came here with a dream and few trunks of smuggled U.S currency (roughly 1,000,000 USD I pilfered from the Commissariat), comrade. A dream of a new, cushy and debaucherous life where I can live freely while denying freedom to others. Amerika, comrade Premier, is our home... and we shall make ourselves at home here, just as we did in the Glorious Soviet Union (may she always be remembered as our favorite whore).

Remember when we all first met? Ahhh, I do... I remember that awful yet fateful day so many years ago.... (Flash back sequence.. prepare for another long and drawn out story).

Yes, I will never forget Feb. 7 1990... the day the Central Committee gave up it's vast power in efforts of...ecckkk... "reform". Yuri and I were in the bunker under the Kremlin watching the proceedings on a CC TV in absolute horror... I recall slowly soiling myself while watching that puppet Gorbachev fall victim to Western influence. It was then I realized that it wouldn't be long till they take my money, my Dacha, my whore... and most importantly... my power. I had no other choice but to find a friend that could get me out of the country and to a place where socialism was alive and well.

I sat in my large plush chair and pondered while my Deputy, Yuri Crassinov, sat there eating bon bons... I was lost and confused and knew that China soon will fall victim to reform... and North Korea? Ha! Not a chance... Kim Sung Il thought of me as a bad influence on his son and banned me from entering the country after the fire-cracker incident at Jong Il's slumber party (some of you know what I'm talking about here). Cuba too was out of the question, especially with Fidel being so close to the U.S. Ugh, I was absolutely distraught... I had no options and very few ideas on what to do with all that money... all that hard stolen money which, if I didn't leave the country within 48 hours, would indeed fall into the hands of some Government agency trying to crackdown on men of my ilk. But it was then in my desperation a miracle sent down by Lenin himself struck me... CNN was on the TV now, some decadent Western agitprop channel I figured... but oh how quick to judgment I was! Yes, I was watching this CNN when a segment came on bashing Dan Quayle as being an "idiot"... this intrigued my interest a bit. But it was one scene that caught my eye... one solitary scene that would change everything for me! Yes, CNN showed the old clip of Democrat Lloyd Bentsen telling Danny boy that he was "no Jack Kennedy". Right then and there the wheels in my maniacal mind began to turn... it was then and there that I realized that disinformation, progress, socialism and corruption was alive and well in the U.S of A! It was something about Lloyd, some sinister quality about him when he muttered "Jack Kennedy" from his pruney lips. I knew then what had to be done... Yuri and I would have to make a trip to the KGB Archives to find out if Amerika was indeed ripe for the taking...

I remember Yuri and I climbing up the long flights of stairs to reach the Archives (there were no elevators... we couldn't afford them). I nearly passed out myself and fell a few flights from time to time... but at last we reached them, and to our surprise someone was actually standing watch. Yes, a long haired man sat in a small chair outside the door with dark tinted sunglasses on... "What the hell do you want, we're closed! Name and papers, please. Name and papers!" he shouted. At that point I became a bit agitated for I had no papers... I never needed them! I wasn't some common prole that had to be monitored every second! I was so offended that I asked for the mans name... "Name is Smersh." the man said "who the f*ck are you!? No, Name and papers... first papers... then name." I never have been so aggravated... things always came easy for me, and this time it wasn't, obviously. I continued to look disgruntled at Comrade Smersh until I told him what Yuri and I were doing there... "Comrade Smersh, my Deputy and I are here to find information on the DNC in Amerika and how our progress to infiltrate this organization is going. My name in Punchenko by the way... Chairman Punchenko.". Smersh looked at me, pulled out a cigarette and lit it... "Oh OK... Got your Party Membership Book, Comrade Punchenko??? It is red... that is unless your color blind... you mother f*cker.", "Sure... here, here... all my records are there" I continued... He looked at me, looked at the Party Book, and then made a silly face at Yuri if I recall... something to the effect of sticking out his tongue at him or something... "Hmm, your Party Book says your name is Serge Meowsevich Punchenko, and yes, you are Nomenklatura..." Embarrassment overcame me... I hate my first name... I HATE IT! I remember how the other Pioneers used to make fun of me because of my first name... why they did it, I still don't know... but I do know being ashamed of for some reason of another... "It's Meowsevich S. Punchenko, Comrade Smersh. I go by my mother's maiden name, thank you very much". "Was your mother a whore, Chairman Punchenko" Smersh inquired. "My father was an Ambassador for the Motherland... he was very wealthy and had all the perks of being a higher-up Party member... so yes, my mother was a whore and why he married her" I said. Smersh looked at me... looked at his watch and said "Alright, your mother was a whore, you may enter." Yuri and I were both relieved until Smersh followed us in. It must have been hours in a study room and volumes of literature we perused to find out whether Amerika was ready for us. Smersh just sat there... smoking cheap cigarette after another until he finally declared... "I'm not letting you leave this room unless you take me with you... I cannot live here either... not with these kulaks taking control". His pistol was drawn and in the corner of the room we saw a small brief case, a copy of Curious George translated into Russian, and a small box of animal crackers neatly concealed on top of it. "Alright, alright dammit... we'll take you with us. Do you have any cash on you??" I asked... "Of course, I do. I'm KGB... we always have cash... other people's cash. Now then, where is the plane??" He replied. That was a good question... where indeed was our plane out of here? I noticed a small phone on the table with our papers and began dialing an old friend who knew his way around Moscow.

The phone began ringing (slowly of course, this was the Soviet Union we are talking about here). "Hello?? This is Private Pravda… Hello?? HELLO!?!" Private Pravda always had a problem with screaming over the phone… especially after our strategic redeployment from Afghanistan… "It's Punchenko, Pravda. Tell me, do you still have that plane standing by… you know, the one we talked about if anything should go wrong here?" It must have been five minutes till I got a response… "I sure do, but you're not using it. Not until you show me a picture of those Dachshunds you got." He replied. Ugh.. there was no time for this, no time at all. Moscow could go up in flames any minute now and all of us getting placed under Mansion Arrest. "Pravda, please... we don't have time… the Central Committee is going up, Yuri and I need a way out and now we have some drunken KGB guy who shouts non-sensical profanities at us who too wants to come.", "Oh, the KGB talks in code… you didn't know that did you? Hmm… alright, I'll have the plane ready" He replied. "Umm, well… the plane is ready and we have a few more people coming with us… I… uhhh… I have some gambling debts I have to pay off and I need the money" He continued. "Damn, how many more" I asked. "Uhh… let me see… well, we have some guy from the Artist Union, uhh... the Premier, some guy named Otis who won't stop playing the harmonica (I said shut up in there, I'm on the phone here!) Uhh…let me see, some Academic with a grad student… he said airfare back to the states is too expensive and he wants to use my plane…ummm who else… a dolphin in the baggage bay…uhhh… a few Commissars… one with a bag full of rather raunchy videos", "Oh good" I interrupted, "Now we have some in flight entertainment!", "Oh no, you wouldn't like these films… they have…uhh… men in them… just men… no womyn, only men… yeah." Pravda said. "I think his name is Theocritus… I'm not sure, all I know is he had a wad of cash to fork over" Pravda continued. "OK, OK… so who else?" I muttered, "Uhh… (sit down back there and shut up!) hmmm, let me see… just a few useful idiots and that's it. Umm… I have three seats left, if you show me the pictures when we get to Amerika… deal??", "Alright, deal… when we get to Amerika that is".

STORY TO BE CONTINUED…


Premier Betty

I'm going to need a bucket of popcorn, Milk Duds, and a large soda for this.


Laika the Space Dog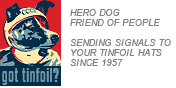 Let's not forget Cho the Warrior.



NBC was irresponsible for showing Cho with guns? Yes with guns!
How are we ever going to disarm the people without showing the evil guns that killed the people?
Warning: This following article is Weak Socialism. We know that only STRONG COMMUNISM is the answer. Kudos to NBC for showing the evil guns and giving us a New Manifesto!
Without NBC's help, our STRONG COMMUNIST goal might fall short of crushing that silly 2nd Amendmant!
Russel Frank must suffer the most harm that can come from our indoctrination camps. He must be denied TENURE!
Never question the National Bolshevik Communard's propaganda efforts!
http://www.post-gazette.com/pg/07119/781646-109.stm

Zampolit Blokhayev

Now if NBC could help Comrade Governor of the People's Commonwealth of Virginia, Tim Kaine, confiscate all the firearms in the PCoVA, we would be one step closer to taking over the PCoVA. With the assistance of the PCoVA's Security Service, The Virginia State Police, we could have the entire PCoVA a "gun free zone". Of course, we would have to go into Fairfax County and arrest EVERYONE inside the National Rifle Association's HQ. But that should not be a problem!

Come with me Comrade Chairman Punchenko, and join this glorious assault on one of the "pilars" of the bourgeois KKKapitalists!!! Perhaps NBC will be there to show the world that progressives and the proletariat are no longer going to stand by while the NRA blocks our attempts to disarm Amerika!!! And where better to start than in VIRGINIA!!!

Off to the Gun Store to purchase an NEW AK-47! I want to be prepared!

--
Zampolit B. S. Blokhayev


Chairman M. S. Punchenko

Yes, we must be prepared! Only a progressive should own a gun in order to protect OUR property from the Kulak hordes. Oh yes, we know they're  after our property... them and their Jooooooooooo banker friends! Right Mime!?!? Right!!!??


Premier Betty

He would agree with you if he weren't in the middle of an act and could talk. However, he does seem to be miming taking it up the arse, although, he might not be faking it....