Che' Ramie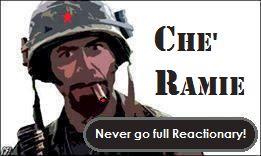 "I Married a Capitalist" (1950) Horror, TrotskyColor™
Produced by RKO (Revolutionary Komrades Organ) Pictures, this is a gripping horror roller coaster ride of political intrigue. It is the story of the dashingly handsome Carlos Danger, an up and coming star in the American Communist Party and his tragic introduction to and marriage of Doris, a closet capitalist.
The film opens with Carlos (played by Robert Ryan, well known Communist activist) meeting Doris (played by Laraine Day, also a well known Socialist who had yet converted completely to Marxist-Leninism as of 1950) at a luncheon hosted by The American-Soviet Friendship Society.
Of course they fall in love, Doris keeping her pro-west attitudes a close secret. Love leads to marriage as so often happened in 1950's films, but soon after, Carlos begins to notice subtle changes in Doris; her insistence that he have a paying job rather than being the community organizer for The Party, her development of such bourgeois attitudes as paying rent, the electric bill and buying food for them to eat. In absolute horror, Carlos finally realizes that Doris is indeed a counter-revolutionary and holds no love for Marxist-Leninism.
This is too much for Carlos to bear, he tries without success to re-educate Doris in the love he has for The Party and his absolute loyalty to its leadership, but Doris sinks deeper and deeper into the vast black hole of capitalistic illusionary depression, finally leading to Carlo's denouncing Doris in front of a secret meeting of the American Communist Party Central Politburo. Naturally Doris is found guilty and is taken behind the local malt shop and executed, proving that cross-political domestic relationships are fatally flawed.
This film won several international awards in it's day; The People's Film Award for Best Screenplay, Chairman Mao's Excellence in AgitProp Productions and finally, The prestigious "Uncle Joe", for Best Anti-Bourgeois Film of the Year. 5 Hammer & Sickles out of 6.
Che' Ramie