Opiate of the People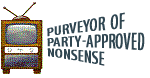 Millions of amateur filmmakers crowded airports, bus stations and border crossings today after Secretary of State Hillary Clinton testified in front of a Senate committee regarding the accidental couldn't-be-helped not-the-Administration's-fault deaths of four Americans in the Benghazi, Libya consulate last fall.
"I've never seen anything like it," said TSA screener and pornographic photograph distributor Spike "Grabby" Lousema. "I musta had 30-40 filmmakers come thru here today on their way out of the country, and every one of 'em was lookin' over their shoulder like they expected someone was followin' 'em.... Say, justa minute, there, sweet cheeks, I gotta search your bra."
Experts are baffled at the sudden urge to emigrate by small-time filmmakers. "It must be mass hysteria," speculated one insider.
"Are you kiddin'?" asked sometime waiter and amateur videographer Gomer Hortimenski, who was hoping to sneak across the US/Canadian border running thru the
Haskell Free Library in Derby Line, VT
, while the librarian wasn't looking. Mr. Hortimenski claims he made and posted a video to YouTube entitled "Innocence of Muslin", about a man's love for cheap cotton fabrics, and has been receiving death threats from people who don't spell very well ever since.
"I know a lot of these people mixed me up with that Nakoula guy, but muslin originally came from the Middle East. I can't take any chances that the next riot will get blamed on me, especially now that the Secretary of State says it don't make no difference what happened. That says to me us low-budget filmmakers are firmly in the crosshairs."
"They're not gonna pin anything on me!" shouted amateur video maker Milt Dripley as he loaded all his earthly belongings on his back in preparation for a swim across the Rio Grande River to Mexico. Dripley said he once posted a video on YouTube about shoddy construction techinques utilized in a California housing development and was afraid of being blamed for the bankruptcy of San Bernadino.
"As a rule, filmmakers are a paranoid and guilt-ridden class of people," stated Dr. Poyen T. Head, a psychology professor at the University of Ivory at Tower. "We saw a plethora of them suddenly paying outstanding parking tickets and back child support payments after the Benghazi incident last September. Perhaps they were trying to make some subconscious amends for society's guilt over the lack of social justice in this country. The very successful ones have these feelings also but assuage them by by contributing to good causes like the Obama campaign."
Paranoid or not, amateur and low-budget filmmakers are quickly leaving the country in droves, potentially depriving one of cyberspace's most popular venues of a major source of content. Worried about the impact this might have on YouTube owner Google Inc, (one of the Party's BFFs), an administration spokesman sought to calm filmmaker fears:
"Look, filmmakers shouldn't worry, I mean, that Nakoula guy wasn't arrested for making the film, he was arrested on a probation violation. Yeah, lotsa people
think
he was arrested for the film but that's only because he violated his parole and nobody had seen him for a year and then the nation's entire law enforcement apparatus went looking for him
after
we found out he made the film... but he wasn't arrested for making the film. See the distinction?"
"Anyway," continued the Vice President, "we can find lotsa other scapegoats, I mean, we don't need any scapegoats and even if we did, hiding in other countries wouldn't help you anyway because the president's got these drones, see, that can find you and kill you anywhere in the world so you might as well give it up because resistance is futile... OK, OK, I'll stop talking now, dammit!"

TheFineReport.com


Red Square

Benghazi Bob!

Anyer Marx

It ain't real indignation without some shoe banging ...

Captain Craptek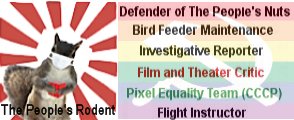 HIC....

Rikalonius

Oh Red, Benghazi Bob is absolutely perfect.


Evil Smiley

Click the image above to see the video.