Genosse Dummkopf

As cataclysmic miasmata, generated over two centuries of barbaric industrial capitalism imposed on Gaia by the White Man, set up to invade The Sunshine State, the glorious proletariat of Florida takes the affairs in their/xyrs/hirs own hands.
~
In order to lead the kollektive effort, expert modellers from UN/FCCC arrive on the scene.
They intend to direct Irma's trajectory. For now, their guiding insights seem to diverge a little :
Remember!
Progressive climate planning requires brains, not stalking in stilettos!
Heroic kollektive Hurricantifa confronts Irma, the Nazi bastard of rotten Kkkapitalism :
Komrades Hurricantifa, remember! Always progressively korrekt! :
From the front line of Klimate Kampf :
Komrades! As the World Climate approaches kapitalism-induced agony,
incessantly urge
the Fundamentally Transformative collective of Progressive World Citizens to double down on improving/cleaning/salvaging our planet's precious and fragile climate! Because - the more they do, the stronger the results will show in 2018 and 2020!
Homework:
That "Uncle Sam" (above), it's just a
mask
!
Whaddya think,
who
is behind the mask, eh?

Clara Illbustyourballs Zetkin
It's too late for NYET GD.
THE GORACLE HAS SPOKEN!
He has never gotten over his chads hanging or the fact that Florida went for MAGA. He is out for full fledged revenge! If you are in the path of Gore's vengeance GIRD YOUR BEETS!

ThePeoplesComrade

I don't know about Irma's direction or eventual strength when it finally hits Florida. But the warning intensity is definitely reaching critical mass.

Captain Craptek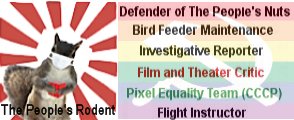 ThePeoplesComrade

We are disappointed in the independent attitude of several local constituents. We fear this Trump individualism is rubbing off on people.
Aint nothin' named Irma makin' us leave.
People against Right turning Fascist Hurricanes