Raum Emmanual Goldstein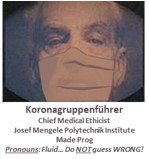 KOMRADES!!!
I wish to pass on this important Socialist Social Justice announcement from our Fellow Travelers in the National Highway Traffic Safety Administration (NHTSA):
While Secretary Elaine L. Chao was out of the office for a long lunch break on the Friday before the recent three-day holiday weekend that shall remain nameless, Undersecretary for Vehicular Manslaughter Carla Marks -- an Obama appointee who agreed to remain as a deep state subversive to provide necessary continuity at the NHTSA -- issued the following press release concerning updates to 49 CFR regarding Fluid Brakes Systems:

"After complaints filed by ANTIFA and Black Lives Matter and in keeping with the KurrenTruth concerning Kancel Kulture Kodes, the National Highway Traffic Safety Administration has revised all regulations under CFR 49 applicable to Fluid Brake Systems installed in all automobiles manufactured since 1908. Fluid Brake Systems have been deemed offensive to People of Kolour."

"As you can see from the enclosed Scientific diagram, Fluid Brake Systems and Systemically RRRRAAACIST! They are "Systems" and they contain RRRRAAAACIST vestiges of the White Privileged Slave Plantations where Automobiles were invented and produced by African Slaves alongside cotton and tobacco for the sole benefit of Rich White Kapitalists."
"Under the new, revised CFR 49 -- and in keeping with the Thirteenth Amendment to the U.S. Constipation Constitution -- the lines between the Master Cylinder and Slave Cylinder on all equipped motor vehicles owned and/or operated by RRRRAAAACIST White People shall be cut immediately. These alterations will come at the cost of the owner/operator. Those requiring technical instruction as to how to properly sever their own brake lines may contact the Clinton Family Foundation's Suicide Hotline for assistance."
"Waivers may be granted for those who send a letter of application and a non-refundable $1,000 cash processing fee to my office, or a valid receipt for an equal donation to Black Lives Matter or the Joseph Biden for President 2020 campaign. The waiver application must include proof of Democrat Party membership."

"Failure to comply with this regulation prior to NHTSA Secretary Chao's return from her Summer Vacation shall result in a minimum 20 years in a FEMA Re-Education/Labor Kamp and a minimum $20,000 dollar fine."
After Acting Sec. Marks opened forum for questions, Privileged Fox News reporter, Wyatt P. Ness pounced: "Won't this order lead to an increase in traffic fatalities?"
To which, Undersecretary Marks answered: "That is a very RRRAAACIST question. I guess we should expect that from an uppity Privileged White Male, but we've considered that. Given CDC Guidelines for the proper completion of Death Certificates under the COVID-19 pandemic, we do anticipate a spike in COVID-related deaths among white conservatives whose brake lines have received the necessary brake system alterations."
"So, No… we do not expect a significant rise in deaths related to traffic accidents. Next time, boy, you best check your privilege before you make yourself look like a stupid, anti-government moron. By the way, what is the make, model and license tag number of your vehicle?" At which time, Marks covered the microphone, passed a pair of small bolt cutters to an NHTSA underling, mumbled some instructions, and pointed out Mr. Ness in the crowd of reporters before continuing: "Are there any other insolent questions?"

After a long silent pause, Marks concluded the press conference: "What can be imagined, can be achieved."
VORWÄRTS GEHEN!!!

Genosse Dummkopf

Master/Slave cylindricity aside, didya notice, Komrades, the outrageous
whiteness
of the FluBraSys contraption?
It's exclusively the brake fluid (see
Scientific diagram
) which introduces some healthy melaninity to that infuriatingly RRRAAAAAcist System.
So, it's not just "brake lines" that must be chopped. No, no, the whole thingamajigs have to be ripped out, torn down, shlepped to the nearest harbor, and pluuumpsssss!
Raum Emmanual Goldstein
VORWÄRTS GEHEN!!!

Covfefe

Don't get me started...
---

$.$. Halliburton

Well that makes sense.

Oh, brother.