Ambassador Sadesky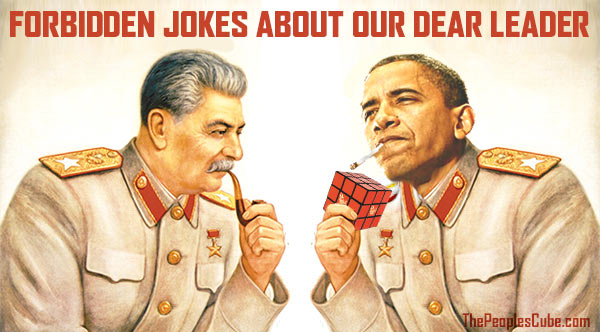 While rummaging through the Embassy staff desks last evening, I discovered this sheaf of mimeographed and unauthorized jokes hidden in a drawer.
This is so disrespectful, as our Dear Leader is in Bethesda, recovering from chest expansion surgery. He needed more acreage to display his medals.
* * *
Q: How does every Obama joke start?
A: By looking over your shoulder!
* * *
Q: Why do ex-NSA officers make the best taxi drivers?
A: Because you only need to tell them your name and they'll already know where you live!
* * *
Knock, knock.
Who's there?
Ronald Reagan!
Reagan, who?
That, comrade, is the right answer.
* * *
Q: Is it true Rush Limbaugh got 20 years in Leavenworth for libel on calling Obama a liar and an idiot?
A: No. The sentence for libel was six months. The 19 years, 6 months were for leaking out classified information.
* * *
A mummy was found in Egypt. The archaeologists could not determine its origin. Then an American FBI adviser offered his help. The mummy was delivered to the American embassy. In two hours, the FBI adviser appeared and said:
"His name was Amenhotep the 2nd."
"How did you find out?"
"He confessed," the advisor said.
* * *
What is the difference between a traditional American and a Soviet-American fairy tale?
An American fairy tale begins "Once upon a time..."
A Soviet-American fairy tale begins "CNN today reported..."
* * *
A man walks into a gun store with a notebook.
"Do you have any AR-15's?"
"No."
He makes a note.
"Street-sweepers?"
"No."
He makes another note.
"DHS could have shot you for making notes like that," says a woman waiting in line.
"No bullets either," he writes.
* * *
"Comrade Obama, is it true that you collect political jokes?"
"Yes"
"And how many have you collected so far?"
"Three and a half Federal Prisons full."
* * *
Q: Is it true that Obama's America is the most progressive country in the world?
A: Of course! Life was already better yesterday than it's going to be tomorrow!
* * *
Two guys were walking down the street in Washington D.C., one turns to the other, says "Do you think we've finally achieved perfect socialism?"
His friend says, "No Bob, it will get much worse".
* * *
An old lady asked the President whether Obamacare was philosophy or science. Obama thought for a moment and answered, "A philosophy".
"I thought so," exclaimed the lady, "Scientists would have tried it on animals first!"
* * *
Obama decides to go out one day and see what it's really like for the American people, so he puts on a disguise and sneaks out of the White House.
After a while he wanders into a cinema. When the film has finished, the Anthem plays and a huge picture of Obama appears on the screen. Everyone stands up and begins cheering, except Obama, who smugly remains seated.
A minute later a man behind him leans forwards and whispers in his ear: "Listen Comrade, we all feel exactly the same way you do, but trust me, it's a lot safer if you just stand up."
* * *
A man left his bedroom window open one night, and his pet parrot escaped. He went to DHS to report the missing parrot.
"Why are you bothering us with this? Couldn't you have reported it to the local police?" they asked.
"I just wanted you to know I don't agree with a damn thing he says about Obama!"
* * *
It's so difficult to make a joke about Obama - he kills satire wherever he goes!

KOOK

Obama refutes the "lie" in the "News We Just Don't Have Time to Write About" headline (right hand column here at the Cube):
Quote:
"Barack Obama finds out from CNN that Hillary Clinton spent four years being his Secretary of State"
The true explanation is that he learned from MSNBC that he had learned it on CNN.
--KOOK

Red Square

One time, in the band camp, Trotsky, Lenin, and Stalin...
Somewhere in Moscow circa 21st century...

Chairman Meow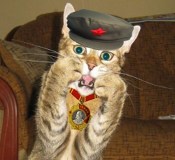 A Federal District Court judge walks out of the courtroom, laughing loudly. A colleague asks, "What are you laughing about?"

"Ah, I just heard an excellent joke about President Obama," the judge says, wiping away tears of laughter.

"A joke? Tell me!"

"Are you crazy? I just sentenced a man to ten years for that joke!"


Ambassador Sadesky

Spasibo for the edit job, Comrade!


Kelly Ivanovna/келя ивановна
A man runs to catch the bus. He jumps in just as the driver's about to shut the doors. "Thank God!" he says as he takes a seat next to an old woman.

"Comrade!" she scolds him, "You should have said 'Thank Obama!'"

"I suppose I should have....but what about when Obama dies?"

"THEN you should say, 'Thank God!'"