Commodore Snoogie Woogums
In a sudden change of heart since the U.S led invasion of Iraq to get rid of a horrible dictator. The French have now decided that getting rid of a Middle Eastern Despot sitting on tons of oil is not such a bad idea after all.
Of course this has nothing to with the fact that they get oil from Libya and want to keep gassing up from there.
To show no hard feelings for the past opposition to the U.S for undertaking the Iraq war, a grateful France has given the U.S military one of its finest military inventions for our troops use...........The French Army Knife.

Sugar Daddy Bear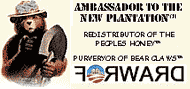 Comrade Snoogie,
That is a most
complete
knife covering all the bases one would have for using such a device. One more thing, though...
Shariah compliant.

Comrade Whoopie

Ah my favorite...smoked cheddar. That french knife looks a lot handier than what I'm currently carrying.

General Confusion

Comrades,

You failed to mention one big defect, as soon as you touch it, the white surrender flag displays just to let you know everything is working!


Grigori E.R.

Qu'est-ce qu'un grand couteau! (What a great knife!)
I was wondering about the little paint brush on the end? Is that for the Toulouse-Lautrec method of diplomacy?

Kelly Ivanovna/келя ивановна
Le grand couteau de l'Armée Française! Je n'en ai pas vu après que j'étais là, quand moi et les communistes français dans l'underground se couchaient l'un avec l'autre dans un bacchanal incroyable. Mais qu'est-ce que c'est qu'on dit sur un drapeau blanc?

Oh, sorry, I tend to get all nostalgia and frenchy when on parle de la belle france.