Raum Emmanual Goldstein
KOMRADES,
As we have made great strides in
destroying tradtional marriage and the family
ensuring equal marriage rights for same-sex couples, it is time to strive
FORWARD
to new horizons of Progressive Equality with regard to definitions of what constitutes marriage and a family.
BEL AIR, Md. - Stephanie Mikles was hired in 2009 to be the behavioral specialist for Harford County Schools...but it is her behavior that may very well get her fired and did get her indicted.

The child advocacy center of Harford County began investigating Mikles last year, but did not anticipate finding evidence that would lead to the shocking indictment.

According to court records and evidence of still photos, a grand jury indicted Mikles with "unnatural or perverted sexual practice."

The indictment lacks a lot of detail but does say she had "sexual intercourse with a dog."
I for one -- having been myself raised by wolves -- am sick and tired of seeing this type of bigotry directed at our four-legged friends.
After all -- if ALL men are dogs, then does not a woman have the right to chose a sex partner who actually
IS
a DOG? Who are WE impose our morals on the choices of others?
Indeed, perhaps it is high time Ms. Mikles be appointed Obama's Sex Education Tzar.
(Now... if you will pardon me, I must run... I here a can opener running in the kitchen!)
F
O
R
W
A
R
D
!
!
!

Captain Craptek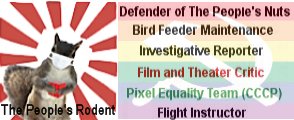 Canine Comrade Spaniel Emmanual,

You may be misinterpreting the story. I believe it was the dog who was indicted for "unnatural or perverted sexual practice." As you know, or should know, in the world of NextTuesday™ it is we quadrupeds who are prohibited from participating in sexual relationships outside of State sanctioned marriage.

BTW: I'm available to take you out for a walk later....if necessary.


Anyer Marx

Mug shot of offending canine has been released. It seems Stephanie had her rape whistle, but it was at a pitch only dogs could hear, and no dogs opted to help. Defecating, peeing, and vomiting also did not stop the assault, though the canine is said to have rolled in it after the rape. Fortunately, no guns were involved.

Counterpunch

Red Square

How more bigoted can one get? As if the judges, the persecutors, and the police have never had those little fantasies as they petted a neighbor's dog, fed guppies in a fish tank, or drove past roadkill - a juicy squirrel or a skunk - just like every other broadminded human being on planet Earth!
SPREAD THE TRUTH!
Fight bigotry with this statistics:
7 out of 8 registered Republicans sexually abuse frozen Wal-Mart turkeys
5 out of 6 Fox News correspondents masturbate over their oatmeal
3 out of 4 Evangelical Christians have had sex with vacuum cleaners
9 out of 10 licensed hunters rape their pre-killed prey before mounting it on top of their SUVs
That accounts for 87% of adult American population.
Data collected by a non-partisan non-profit "People for sexual liberation of plants, animals, inanimate objects, and household appliances."
I believe we have pre-covered this and other similar cases in our earlier thread,
Free Bryan Hathaway!

Red Square

Comrade Counterpunch - your picture reminded me of a recent story:
Quote:
In today's frenzied struggle for unfettered sexual license cleverly couched as "civil rights," we shouldn't be surprised, then, that oppressed peoples representing all form of "sexual orientation" are lining up for their slice of "equality" pie.

Yes, even, um, animal lovers. According to a recent report by Florida's Gainesville Sun, for instance, "Lawyers representing a Marion County man accused of sexual activity with a miniature donkey have filed a motion asking a judge to declare the Florida statute banning sexual activities with animals unconstitutional."

"Carlos R. Romero, 32 . . . is accused of sexual activities involving animals, a first-degree misdemeanor, after he allegedly was found in a compromising position in August with a female miniature donkey named Doodle."

First of all, I was offended by the article's insensitive use of the term "miniature donkey." I believe, if I'm not mistaken, the preferred nomenclature is "little horse."

Still, I was especially struck -- though not surprised -- by the legal arguments Romero's lawyers ponied up. They claimed "that the statute infringes upon Romero's due process rights and violates the equal protection clause of the 14th Amendment in the U.S. Constitution."
The full story is very worth reading
http://cnsnews.com/blog/j-matt-barber/p ... l-identity

Ivan Betinov

He was just saying "Howdy, Doodle."