Laika the Space Dog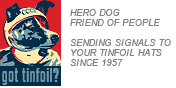 6 Hours ago.
From our inside Pentagon sources, news is leaking out that the United States military is planning a "Dumb Bomb" pre-emptive strike on The Democratic People's Republic of Korea in retaliation for their "mini-semi-almost-yeah, it's a nuclear test" conducted last week.
According to our inside sources, the Pentagon has discovered that Kim Il Jong must have a light on at all times in precaution for any assassination attempts from the West and since this "night light" is left on all night, the USAF can pin-point the single source of light emitting from the outskirts of Pyongyang, believed to be "Dear Leader's Palace".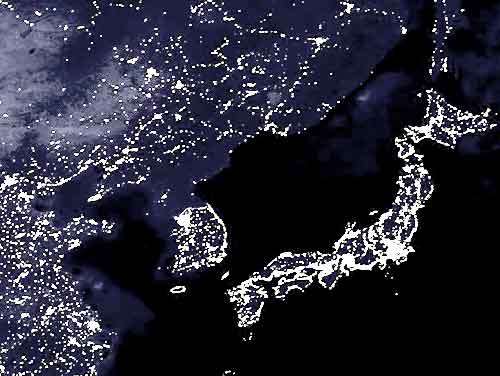 Can you tell which country is all dark in this picture?
Other American sources claim Kim Il Jong is "afraid of the dark" and "we don't even need to use satellites, missles, smart bombs, or predator drones. Just a night mission, one B-52, a one kiloton bomb, and a crazy cowboy willing to ride that bomb down the palace chimney."
It has been rumored that a certain Maj. T.J. "King" Kong, Jr. has been chosen to lead the mission. When Maj. Kong was questioned about this matter outside his Montana ranch while on leave, his only two comments were "No comment" and "No Shit Shirley".
http://en.wikipedia.org/wiki/Slim_Pickens

Chairman M. S. Punchenko

Laika the Space Dog
Can you tell which country is all dark in this picture?
South Korea no doubt. The DPRK is an advanced socialist utopia with technology that far surpasses our wildest dreams.

General Ivan
If I speak proper English can I leed the new revolution there!!??? I thought because I had a power inverter and a dewalt battery charger and flash light I could be someone really special there but no one has a car with a cigarette lighter to plug the damn thing into....I haf Meeny resoh- peas phoor Rice ant Rat Meet!!!


Commissar M

Meh, of course North Korea is dark. They all go to bed early and don't waste the world's resources, unlike SOME evil Imperialist states we know. This photo is proof positive of just how Progressive the DPRK is and how we can hopefully emulate them in the future.
Besides, with most of the lights out, the whole country only needs ONE night light.
North Korea's one big ass Progressive night light of Truth.

Margaret
Laika, I love Slim Pickens.

From what I understand North Koreans name all their restaurants after him. "The Slim Pickens Room."


Laika the Space Dog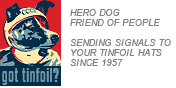 Quote:
From what I understand North Koreans name all their restaurants after him. "The Slim Pickens Room."

Yes, and there is a chain of "Slim Pickens All You Can't Eat Buffet". I understand you have to catch your own "roof rabbits" and the rats are complimentary.

http://www.urbandictionary.com/define.p ... oof+rabbit

General Ivan
Yes I visited the sliM golden arches while I was stationed at secret erh uuuhhh place there !!!I still don't understand why there were saw mills and kimchie stores near every sliM golden arch fast food store(it had just been upgraded with donkey cart pullup window) and they were giving away free Ak-47 bullet with every meal.


Chairman M. S. Punchenko

I just LOVE cat burgers. Nothing says yummy more than a cat burger with a side of kittens!!! We can thank the Dear Leader for this bountiful feast of rodents and small domesticated house pets!!


General Ivan
There were people starving everywhere and believe it or not right in the middle of town the Local Commissar ( who remains unnamed) was giving away free rice beer and kimchie there was a catch though.....  you had to ride the gravi-tron for an hour..... I tried but my donkey cart wouldn't fit in the gravi-tron ....