Pamalinsky

A dewy-eyed, (gosh, I'm such a nice guy) impeccably coiffed, innocent woodland creature, Gen. Wesley Clark stated, regarding Climate Change:
"It's what was behind a lot of the violence in Syria, it's happening in East Africa, it's happening in West Africa. Right now."
He urged the US government to take "
real action,
we need a carbon tax
.
" He added that climate change-believers were "winning" and that climate change "impacts the neediest the most."
He did not clarify how a carbon tax would actually affect Climate Change but, he was absolutely convinced we need one. And that is all we need to know. Right, Comrades?
H/T Breitbart-TV

TheFineReport.com

Wesley Clark?!
When did they let this fruit out of the asylum?

Pamalinsky

Well, Comrade Very Fine,

They trot him out when they need him. He appears to be in a virtual/mental/physical cage.

I wonder what his "safe word" is. My guess is he doesn't have one. If he did though, those who run him would ignore it. Sucker!


Kapitan Kangaroo Kourt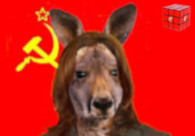 Who knew that Algore was was so needy and impacted? Divorce can be devastating.


Pamalinsky

TheFineReport.com
Wesley Clark?!
When did they let this fruit out of the asylum?

The attachment Wesley Clark.gif is no longer available
I have it on good enough authority that this has been his job for several years: