Neotrotsky

Comrades,
In their good work in pushing Obamacare, the SEIU must have found itself short of funds.
So, it is only fair that they be granted a waiver from imposing Obamacare. They are not alone! At least 11 other union groups are with them:
Gateway Pundit
- Lets' see who else is on the list:
[indentr]#12– UFCW Allied Trade Health & Welfare Trust
#14– IBEW No.915
#19– Asbestos Workers Local 53 Welfare Fund
#33– Plumbers & Pipefitters Local 123 Welfare Fund
#35– UFCW Local 227
#52– UFCW Maximus Local 455
#55– Local 25 SEIU
#60– UFCW Local 1262
#78– Local 802 Musicians Health Fund
#83– Local 17 Hospitality Benefit Fund
#89– International Union of Painters and Allied Trades (IUPAT)
#91– Transport Workers
#92– UFT Welfare Fund (United Federation of Teachers)[/indentr]
Once again, we see the beauty of statism at work.
Because our leaders and their associates do important work for the people, they can not be expected to follow the same rules.
Should our Most Great Leader, Papa Obama or any politician, have the same doctor, the same
Healthcare
as an ordinary proletariat ? - Of course not !
Again remember comrades, under our new and brave Progressive model-
WE ARE ALL EQUAL
(some are just more equal than others)
Do not believe the lies of the racist; xenophobe; hate-mongers; right wingers-
Socialism works Best ! Granted better if you are an Inner Party member, but nonetheless
Long Live Our Progressive Dream !

Kim Junk-Ill 킴정크악
How can I get one of them cards? We have an excellent care system here in Pyongyang already and have no need of the Imperialist Obamacare. In our most glorious socialist care system, patients are simply stripped of their daily rations and promptly converted into necrovoters who always vote for the Dear Leader underground. Our system is the most efficient and least costly in the world.


Fraulein Frankenfeinstein

humm, I do not see the necessariness of getting out of our glorious Gulag For Free card. We have the best gulags that can offered, with free medical care, free food and enjoyable work facilities. Why, we had Obamacare before they had Obamacare!
Just see the lovely update housing and convenience of pet care we. And an opportunity to
learn
see firearms in action. I cannot imagine not wanting a
extended stay
visit!
If you are referring to this lunch time special, it is not real. Nothing to see. More along. It was a joke.
This bug was successfully killed!!! This is a fake photo... see what we have to put up with?!

Comrade Whoopie

Pickled prole's feet are good, but I prefer a juicy steak.

General Confusion

Comrades,

Who needs a card? Anyone can leave whenever they want. [There may be some unpleasantness, plenty of digging, and searchlight avoidance, and then there are the dogs]

The trick is not to get out for free, the trick is to get out alive and unscathed.

Those who leave for free are in a parallel relationship to the ground and not breathing,
voting rights are intact, but nothing else.


Krasnodar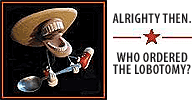 Comrade Whoopie: In appraisal of your last posted image, I do believe you should be appointed Minister of Culture by the Party leadership.


Shovel 4 U
Comrade Whoopie
Pickled prole's feet are good, but I prefer a juicy steak.
A proles diet is a little less refined.