Commissar Redumdimski

Motto:
"WANT IS WEALTH
POVERTY IS PROSPERITY
SQUALOR IS LUXURY"

Today my Kollektiv 0partment neighbors said their son has been
ordered
given an assignment by his школа to write to Dear 0 to encourage Him in this time of Evil Inkorrekt Tea-rrorist Teabagger™ tribulation and remind Him that He has the gun; the filthy Teabaggers™ will soon be prevented at penalty of imprisonment through Glorious Peoples' Regulations from carrying anything more dangerous than a Q-tip (which will also soon be outlawed; their manufacture requires the use of Gaia's precious resources).
Since all my neighbors and their children have been
indoctrinated
educated in our Glorious
Pubic
Public School System, they have only been trained to write what is required to fill out Glorious Federal Welfare Forms, and are therefore unable to express themselves beyond that level of Required Kompetence. That's why they asked my assistance and, for an extra ration of their family's beet juice, I magnanimously agreed.
After I finished and read the note to my neighbors, then explained some of the harder multi-syllable words, they were so delighted (to them a laundry list is prose and federal forms are epic interactive masterpieces) that they insisted I share it with our dear People's Cube tovarisches:
"Dear Leader Husseinovich:
For The Children™!
We, Your loyal followers, grovel at Your very name.
We know You are the Way, the Truth, and the Life, and we want to express our undying loyalty as Your people to carry out Your every Dictate and Demand.
Yes We Can™!
~
We reject the Evil Tea-rrorist Teabagger™ notion of private property and their supremely selfish and Inkorrekt unwillingness to spread the wealth of their labors, since we Korrektly Groupthink, with You, that the very concept of keeping what one earns is greed of the lowest and most despicable form, and that Evil capitalists must contribute their
un
fair share so that those who will not work may eat, so they may adore and vote for You. The fruits of Evil capitalist labor must not be selfishly spent on themselves and their families, it must benefit us all. Everything, after all, is Yours and the Party's.
We want to stay on Your and Your Party's plantation so that You will house us, feed us, 0'care for us, tell us what to think, and teach us only what we need to know to serve You and Your Party alone.
We promise to You, in return for Your beneficent care and magnanimous oversight, our undying and unquestioning loyalty, as we know that our
slavery
service to You
and Your Party
is the Highest Good that we may aspire to.
We Are The Ones We've Been Waiting For™!
We denounce the hateful rhetoric of all racists and Tea-rrorists, and we know them because You tell us who they are. You and Your Media have
indoctrinated
educated us to know that anyone who disagrees with You and Your Party is the enemy, the racist, the Tea-rrorist. We hate them with perfect hatred as You desire us to. But we will not merely speak our support for you. We will exercise that support in belligerent, destructive, profane marches and protests against and personal attacks on the Tea-rrorist Teabagger™, RethugliKKKan™ and capitalist enemies, firebombing and destroying their unfairly acquired houses, yachts, and corporate jets. We will harass and harangue them and let them know they are not safe wherever they hide, and unwelcome wherever they go. Gaia will forgive us for the burnings, as she is also with us and with You in our People's Dominion and Redistribution. Gaia, as you, will revel in the burnings and the New Days of Rage.
We need You to protect us from everything, but we know You have no control over anything, like the horrible bad luck you have had: the Arab Spring You encouraged and supported that turned into a vicious mess, the devastation in Japan, the turmoil in Europe (that You blessedly wish to be bestowed on us in the USSA), the disasters here at home (we all know the Tea-rrorist Teabaggers™ create floods, hurricanes, and tornadoes because (Bush) they hate Gaia), the USSA Downgrade, and the numerous wars we are embroiled in. We know we would have already arrived at our Utopian Statist Nirvana if only the Teabagger™ RethugliKKKans™ hadn't blocked Your Glorious Leap Forward that You were implementing at mach speed for Your first two years with Your Congressional Supermajority. But We have confidence You will prevail
against the will of the people
For The People™!
We cannot survive without Your 0'care and Your Programs. We need You as we need the very air Gaia gives us and so we will not allow anyone to decrease Your Government, Your
Taxes
Revenue, Your Regulations, Your Orders, Your Authority. As you do, so shall we - we will not rest – we will work
slavishly
tirelessly with You to increase Your Government until not a single aspect of life is
free from
unaffected by it. You only ask more of us so You can Bless us with more from Your Stash™. We will not allow anyone who wants any less from us to take Your place. And we will violently defend Your Right to take a Tragical Misery Canadian-made Bus
Campaign Trip
Tour at our expense as You tell us You want everyone to purchase items Made In AmeriKKKa, while avoiding Your unemployed black supporters, then to vacation at Martha's Vineyard with Your rich white friends who agree with You, and to get out on the links whenever it pleases You to do so.
Hope And Change™!
It is enough that You lower the seas and take care of the old folks, giving them needed pain pills and not wasting pacemakers on them. Yet even more, You are destroying the ability of Evil capitalist private energy companies that produce nuclear power or process and refine oil and coal by regulating and blocking the life out of them, causing energy prices to "necessarily skyrocket", so we will be forced to pursue Clean Green Sustainable Energy™ with Workable Solutions™ like Rainbows and Unicorn Farts. You defend a woman's right to
kill her baby
do with her body as she pleases. You promote the influx of fresh bold blood into the USSA by means of a whole population of
uninvested poorly educated illegal aliens
unregistered Party voters. You celebrate
perversion
the
slavery
freedom of the gay/lesbian lifestyle. You empower Glorious Agencies and Departments like the NEA to
indoctrinate white kids to hate themselves, their parents, and their heritage
teach our children to Embrace Diversity™. You are leading the way in emboldening all The People™ of the USSA to
despise
Fundamentally Transform™ our Country and what we believe about it. And as a crowning jewel in your
tiara
resume, You have pledged Yourself to continue the plundering and destruction of the Evil rich wealth of so-called "private citizens" of the US of KKK so future generations
will spend their working lives paying for your follies
won't know what the AmeriKKKan dream was. It is no wonder we love You so – we Hope and Change™ that You will be our Emperor for Life!
Shared Sacrifice™!
You give us equality of outcome, not equality of opportunity, because You are our opportunity, and in You we trust.
You demand so little of us – only our loyalty, our labor, our lives. And in return You give us so much. The Blessings of Your Hope And Change™ are everywhere in all things and to all life evident. You are the Culmination of History, the Realization of the Statist Utopia.
Stay Strong Mr. Husseinovich, our Dear and True 0'Leader!"

R.O.C.K. in the USSA

~sniff~

I sit here, at my computer, tears running down my cheeks, having just read the beautiful missive above. Comrades, I have never heard my own love for and dedication to The One™ expressed so clearly, so succinctly, with such glorious Irish sub-Overtones!

My fellow O'travelers, we have arrived at a moment which shall stand out forever in the anals of history. To know that Dear Leader is there for us always, that he cares so deeply and stands ready to spread our wealth around, that FLATUS herself is shovel-ready to make sure we ingest only Gaia's very best foods - comrades, words fail me. Even though they may not seem to. They do, really.

As I bask in the radiant glow of Our Barry Who Art in DC, I feel that I should wish you all a redistributed Friday, with a reminder that - let me be clear - Next Tuesday is truly right around the corner!!!


GAIA Minister Neytiri

R.O.C.K. in the USSA
~sniff~

I sit here, at my computer, tears running down my cheeks ... we have arrived at a moment which shall stand out forever in the anals of history. To know ... that FLATUS herself is shovel-ready to make sure we ingest only Gaia's very best foods - comrades, words fail me. Even though they may not seem to. They do, really. ....
You are quite right that FLOTUS is shovel-ready to make sure we ingest only GAIA's very best foods and NEVER, EVER ingest such capitalists' poisons such as French Fries (or especially Freedom Fries):
--GAIA Minister Neytiri

Commissar Redumdimski

Tovarisch R.O.C.K., it is gratifying to know that there is a fellow Cuber whose emotions are riled stirred up regarding Dear 0'Leader (PBUH).

Tovaisch Blessed Be Gaia Minister, I rack my addled Freedom-Fry Gaia's Best Foodstuffed brain but do not recall ever seeing Moochelle and Barrito in a restaurant together. Is this because each of them, when dining out, cannot abide the other seeing how both exempt themselves from FLATUS' Gaia-Goodness Healthful Eating Code?

By the way... In your Korrekt McD's Health Kontrol image you included, it appears FLATUS Moochelle is about to scoop out Ronald's stomach. Is it possible M. is confused into believing that the Ronald she is about to take on is the 40th President of the US of KKK?


Sugar Daddy Bear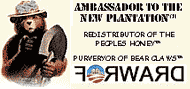 Comrade Redumdimski,

I commend you on your emotionally moving letter to Dear O'Leader. So many times he has admonished us that he can't do this alone. He can't do WTF without our help and support. Your inspired letter is just the thing he needs to hear besides his poll ratings being a toilet-bound 26% and his chances of reelection are the same as a snowball's chance in hell at this most pressing time.

And I want to commend you for the civil tone throughout your prose. This is exactly what O'Leader was lecturing to us about ad nauseum. Well done, comrade. And I'm sure you'll find an extra ration of last week's beets in your burlap bag.

Comrade, the shovel in question that MOO-chelle likes to drag around with her is, in all reality, an industrial-sized lobster pick. It also doubles as a butter spoon to douse the tail in the fragrant, warm butter. She's just pointing it at Mc O'Ronald as part of a thug mob rampage that you don't see going on in the background of the photo.


Commissar Redumdimski

Tovarisch Corporeal Big Bear Whinny,
I'm (not Barney) frankly surprised Dear 0'Leader's ratings are not around 1 close to the 99th percentile. He is doing such devastating fine work, showing us the Way to turn a once vibrant economy into a morass of socialist despair the monumental triumph of European-style socialism, while simultaneously engaging in the destruction of our civil, social, and moral moorings boldly championing Progressive Korrekt Scientific Socialist Programs that collapse societies into smoldering piles of rubble herald the New Dawn of a Glorious Socialist Utopia. It just proves there is a disturbing number of drones who respond to polls Tea-rrorist Teabaggers™ who are incapable of enlightenment and appreciation of the primrose path to utter enslavement the Glorious New Statist Era and that we are finally running headlong over the cliff and into the abyss rapidly reaching the enlightenment of the World of Next Tuesday™.
Thanks for pointing out the Korrekt spelling of MOO-chelle. That is poignant in the current context; she has that industrial-sized lobster pick at the ready and is exercising those biceps mightily at Martha's Vineyard, where the livin' is easy and the butter flows like mud wine and cheese.
It is heartwarming to know our FLATUS is working so hard to ensure that she is MOO-chelle and MOOCH-elle rolled into a tantalizing cheese-and-pretzel logic-like Combo. There are many facets to our Jewel of a FLATUS, no doubt. Roiling the thug (must be ReTHUGliKKKans) mob just beyond the view of Gaia Minister's image into a frenzy to prepare for the rampaging burnings and destruction festivities is just one of them. (It's not too soon to get ready for FESTIVUS!)
Just thinking about a few more of last week's beets has my mouth watering more than butter, lobster, and cheese. Not that I can recall what the latter three taste like anymore… But does anyone have a bit of thread and a needle I can use? My burlap bag has developed a hole in the bottom, and moths are flying out of it.