Mikhail Lysenkomann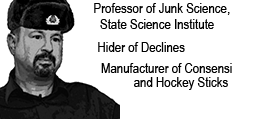 It's been known for some time that weather stations in cities (you know, around asphalt, buildings, motor vehicles and so forth) always show higher temperatures than weather stations in the nearby countryside.
It's called the "Urban Heat Island" (UHI) effect, and this is why my colleagues and I have been closing down rural weather stations, because they do not show the amount of Global Warming that we need in order to continue our
hoax
work.
For those weather stations that remain in rural areas, we simply
tamper with
"adjust" their readings in the Official Record, so that they show the temperatures they
should
be showing.
Well, some of my Comrades have just discovered that even in the frozen North of the Motherland, UHI exists!
Someone drove around five Russian Arctic cities in a car equipped with a weather station and found that... get ready for this...
IT'S WARMER IN THE CITIES!
The greatest effect was found in the city of Apatity. Well, of course. Titties are always nice and warm!
Study proves urban heat islands exist in the Arctic, especially in towns ending with the word 'titty'
Now, where's that picture of Al Gore getting his Third Chakra warmed up? I know I've seen it here somewhere...

Lev Termen

Apparatchik Unkulturny

Well, of course, all
Politically-Educated Kameraden
know
that
temperature is higher in cities, Da?
Well,
My
Our entire
beet-kollecktiv
has voted -
UNANIMOUSLY!
- that
Information Groups
from
My
Our
Heroic Workers' Brigade
should visit
"DENIERS"
(
ptui, ptui
) in their homes in order to
re-orient
their
inkorreckt thinking
to the
Korrekt & Approved knowledge
...

Red Square

"Apatity" is Russian for
apatites
. That area contains the world's largest deposits of apatite, hence the name of the mining town.
That area contains the world's largest deposits of titties, hence the atmospheric anomaly detected by our vigilant climate commissars.
To illustrate the role boobs play in social and environmental justice, please watch this video. I programmed it to start at 2:28; if that doesn't work, navigate yourselves, but the main insight into the matter begins at about 4:00.