Red Menace

Long live the Revolution and Forward to Next Tuesday!™
Quote:
Moscow (dpa) - Hundreds of thousands of people marched in demonstrations throughout Russia on Wednesday to mark the traditional May holiday, as President Vladimir Putin revived a Soviet-era labour award.

Putin gave the Hero of Labour award to five men in St. Petersburg, the Kremlin said on its website. Among them was Valery Gergiev, the director of the city's famous Mariinsky Theatre.

The new decoration, a star of gold, closely resembles the Hero of Socialist Labour award, traditionally handed out by Soviet leaders until 1991.

Meanwhile, people marked "Spring and Labour Day," as May 1 is traditionally known in Russian, with rallies and marches. The biggest May Day rally was in Moscow, where police said that some 90,000 people joined a march organized by the pro-Putin United Russia party and trade unions. Most attendants were workers in state-owned companies, according to television reports.

Opposition rallies also took place in major cities, although police and organizers' attendance figures diverged widely. The Communist Party said on its website that more than 50,000 people joined its Moscow march, while police said just 4,500 attended.
Now... back to the beet field. I'm burnin' daylight.

Comrade Puppy
I was about to say that I hope that today's most wonderful holiday finds all of my fellow comrades in good health, then I realized "Of course they are, now that we have Obamacare!"
I must report with a heavy heart that, despite the aide of our Occupy breathern, we reach this distinguished day once again, having failed in our bid to drag those dastardly neo-kulaks, capitalists, and other bourgeois beneficiaries from their homes and liquidate them. At the location of our best effort during last year's celebration, Seattle,
the enforces of the status quo are now prepared for our fellow travelers
this time around. I am beginning to fear that I will not live to see the wonderful revolution, comrades!

Red Square

I didn't know Pinkie had a sister!

Komrade Katz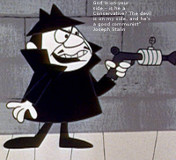 Happy International Labor Day - workers of the world, unite and all of that. My komrades in China are happy to give the children working in factories recess todayhave a week off so that they can celebrate the fruits of the revolution with fellow travelers. Then, of course, they must hurry back to the factories so that they may produce low-cost television sets revel in working for the good of the collective.


Red Square

German National Socialists also celebrated May Day? Who knew!

KarlUshanka
A GLORIOUS May Day indeed, Comrades!
We are celebrating with our 3rd Annual May Day contest at Ushanka. One or more winners will get a Commie Obama Ushanka hat! So will the top referring blog. Help us help you help The People's Cube!
CLICK HERE
to redistribute a hat today!