Wyld_Goose

Yes, that's right comrades. Chanting "U.S.A., U.S.A., U.S.A.!" is now also considered RACIST. Seems that chanting "U.S.A." is now as divisive as the confederate flag.
Racial incident mars high school game
School district, students apologize
The Blaze also reports:
Quote:
In what is being described as an incident of racism, a school district in Texas has filed a complaint after some rival high school students chanted "U-S-A! U-S-A!" to celebrate a basketball victory. And some of the students involved have now been punished and forced to apologize.

Student supporters at Alamo Heights High School started the celebratory chant after their team clinched a regional championship against San Antonio Edison High School on Saturday, the San Antonio News-Express reported.

Edison High School is predominantly Hispanic, and officials at the San Antonio Independent School District took the chant as a racial insult from supporters of the largely white Alamo Heights team.

According to the News-Express, the chant lasted only about five seconds before Alamo Heights head coach Andrew Brewer quickly silenced the students. Nevertheless, SAISD athletic director Gil Garza on Tuesday filed a complaint with the University Interscholastic League, which oversees extracurricular activities in Texas public schools.

"Our kids try real hard and work extra hard to get to the regional tournament, and then we have to worry about them being subjected to this kind of insensitivity," Garza told San Antonio's KENS-TV. "To be attacked about your ethnicity and being made to feel that you don't belong in this country is terrible. Why can't people just applaud our kids? It just gets old and I'm sick of it. Once again, we're on pins and needles wondering what's going to happen."

Krasnodar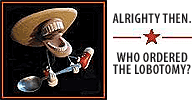 [indentr][indentr]
" Societal Parastolsis "
[/indentr][indentr]


These impudent, patriotically warped high school kids need to be silenced

NOW

.

If we in the U.S. were attending this game in Mexico, and the Mexican team won, can you imagine the rejection and shame we would feel if the crowd started chanting " Viva Mexico "?Horrible.
[/indentr][/indentr]

Wyld_Goose

We patriots pride ourselves on intellect. I wish these silly Americans would actually learn the definitions to the very words they use. I am unclear how I would be a racist if I was to chant proudly "U.S.S.R., U.S.S.R.!" I wouldn't be a racist. I didn't know being Russian or American was a race.

I would how ever be a Nationalist.