Comrade Andelino

Amazing how a "reelection" can reshape an incumbent's thinking about many things. Now safely ensconced in the White House for 49 more months, the Obama's have decorated the place with "54 Christmas trees" this year.
Even allowing for the usual Washington excesses with "taxpayer" money, that's a whole "grove" of Christmas trees.
"We have 54 trees in the White House,"an excited Michelle Obama proudly told visitors the other day. "54! That's a lot of trees."
In fact, the Obama's 54 trees this year are almost 50% more Christmas trees than last year. That was during the campaign before Obama whispered a reminder to the Russians that he had to be careful until November 6th when a victory would give him more "flexibility."
Also, I'm sure they are not referred to as "Christmas trees" at the White House. Probably more like "Comrade Firs" or "Islamic Spruces." I would have suggested "PC Bushes," but that would have been "racist" for anyone to reference Bush in any positive way.
My question is why only "54 trees?" Shouldn't there be one for each of the "57 states" Obama campaigned in this past year?

Anyer Marx

Fortunately, the more equal have provided instructions for the less equal without solstice trees on how to
make do
joyously celebrate with what is available.
Of course, if the beets are already processed, there are alternatives ....

Komrade Kent

I do not need a Christmas Holiday tree to celebrate. Just the idea that the proletariat is moving ever closer to Class Consciousness with the help of Dear Leader and the Party's guidance, is enough to warm my insides like a glass of beet Vodka and egg nog this holiday season.
I hope Obama Claus brings new shovels and an extra helping of Gov. Cheese to all on the new plantation this year!


Captain Craptek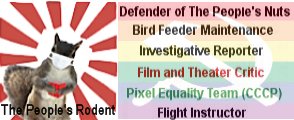 When Moochelle had finished placing the 54 trees around the White House I noticed there were still two left unused. In the spirit of decorational equality, Conservational Justice, and of course, For The Children™, I humbly offer this new Seal of The White House Military Office.

Sugar Daddy Bear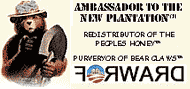 Comrades,
Fear not for Ceasar O'bama's missing Marxmas trees. They have been found.
Total now is the korrekt 57.

R.O.C.K. in the USSA

Comrade Bear, I believe that would make it 58, but my eyes are kinda blurry...


Commissar Redumdimski

Sugar Daddy Bear
Comrades,

Fear not for Ceasar O'bama's missing Marxmas trees. They have been found.
Comrade Daddy, not only are those trees official 0bama-tested Marxmas trees, they're also the Official Fuel of the Green-Power Revolution! And, when burned to power those who use it, a smoky miasma is produced of which 0bama's EPA actually approves!