Raum Emmanual Goldstein
I KNEW IT!
I KNEW it was bad policy to appoint a known RethugliKKKan -- no matter how "moderate" to serve as an Inner Party Member. Eventually, their TRUE colors will always shine through. One will note that Obama selected Hagel to "take one for the team" over the phony Bergdahl scandal -- a certain high honor worth of the Order of Lenin...
....an Honor Hagel -- I will from here on pronounce "Hate-gul" -- has refused!!!
Did you HEAR THAT!
When offered the opportunity to crawl under the bus, er take the credit for that brave decision to release five Taliban Generals for the ONLY Soldier to serve honorably in Afghanistan, Hate-gul says THIS:
[indentr]
"Mr. Chairman, I want to be clear on one fundamental point – I would never sign off on any decision that I did not feel was in the best interests of this country. Nor would the president of the United States, who made the final decision with the full support of his national security team."
[/indentr]
THIS IS MUTINY!!!
It is thus time for Hate-gul to receive his lateral promotion to Inert Agricultural Compost Specialist/Necroproxy in the dead of night... just in time for the General Election.
While we're at it... we should also retroactively contraceive the sorry bastard who recommended Hate-gul to be the SecDef... whoever they are has done Dear Reader (AP&PBUH) a grave disservice

Captain Craptek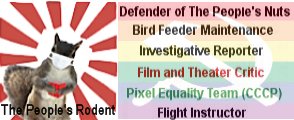 Anyer Marx

It being too difficult for my befuddled mind to keep up with who is under which bus and who was driving over who (whom?) and/or when (I have train schedules, but not bus schedules), I feel compelled to modify a prior bus mishap image here:
Raum Emmanual Goldstein
Well, since Hate-gul has missed his designated BUS... Then he must take a long TRAIN ride...