Obamugabe
From the excellent progressively equal people's magazine Newspeak:
http://www.newsweek.com/id/220552/page/1
Quote:
Asked how he reconciles that realization with the wonkish content of the book, Gore at first seems stymied. But then, when I prompt him, he points to pages on the spiritual dimension of climate change, the idea that God gave man stewardship over the earth, and that preserving it for future generations is a sacred obligation. Then he opens his laptop to show a commercial by his Alliance for Climate Protection, in which the Revs. Al Sharpton and Pat Robertson make an odd-couple plea for "taking care of the planet." Gore allows that he's been tailoring the slide-show training he gives to faith-based volunteer groups.

"I've done a Christian [-based] training program; I have a Muslim training program and a Jewish training program coming up, also a Hindu program coming up. I trained 200 Christian ministers and lay leaders here in Nashville in a version of the slide show that is filled with scriptural references. It's probably my favorite version, but I don't use it very often because it can come off as proselytizing."
Have you ever wondered why hell is a fire and not a ski resort? Surely HELL is only a metaphor for a warming planet where the People are oppressed by Carbon Breathing Kapitalists!
Repent and destroy your SUV! Repent and abort your carbon spewing offspring! Repent and stop farting methane into our precious atmosphere! Repent and stop exhaling CO2!
Save us from hell, Oh Goracle!
(For reference, please see
The Goracle's Scripturally Referenced Nashville Address
™ )

Red Rooster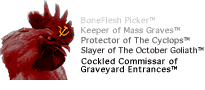 I REPENT FOR MY CHICKEN BUTT POOFS!

SAVE US GORACLE! SAVE US!