Neotrotsky

Today is a great day!
Karl Marx' birthday May 5, 1818

Comrade Whoopie

Oh golly, I was so busy celebrating his birthday by drinking toasts to his good health that I forgot to brag that I was celebrating his birthday.

I pity the comrades who don't sign this birthday card of a post by midnite. Thanks Neo. You saved me from having to make all kinds of excuses at my show trial.


Neotrotsky

No thanks necessary comrade. It is all for the collective cause.

However, if you want, we could still have a show trial just for "old time sakes".


Colonel 7.62

Happy Birthday Comrade Karl!

Whoopie, I will make sure *everyone* signs your card by midnight, even if I have to stop the Collective clock to do so.


Chedoh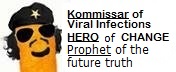 I hope everyone is ready for their beet cake!
It
almost
looks good!

Comrade Whoopie

I tell you what, by the time I got done drinking toasts to Karl I was one pickled beetnik.