Commodore Snoogie Woogums
Comrades,
It is with joy to inform the collective that April 15th has passed once again in the United States, with the masses once again gloriously handing over their earnings to our benevolent Government.

Ivan the Stakhanovets

The best part of being entitled to OPM instead of being a tax donor, is that I don't have to wear that skimpy outfit anymore after April 15. No sir, you can't make me do that again!


Kapitan Kangaroo Kourt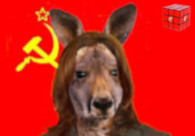 What a joy to see our dear senators so fashionably attired and ready for a pool party for The Party™. Diving into and wallowing in pools of OPM must be so refreshing......


Red Square

April 15th: Happy Other People's Money Day!
I hear some subversive in LA put up an
IRS Death Star balloon
next to the IRS building on April 15th.
And another one decorated local mailboxes with this poster:

Khruelchev

Comrades, for the collective, April 15th is PAYDAY! Remember that once the World of Next Tuesday™ truly arrives, EVERYDAY will be April 15th!! I sleep with my shovel in anticipation. If only Mrs Khruelchev wouldn't complain.