Colonel Bashemagin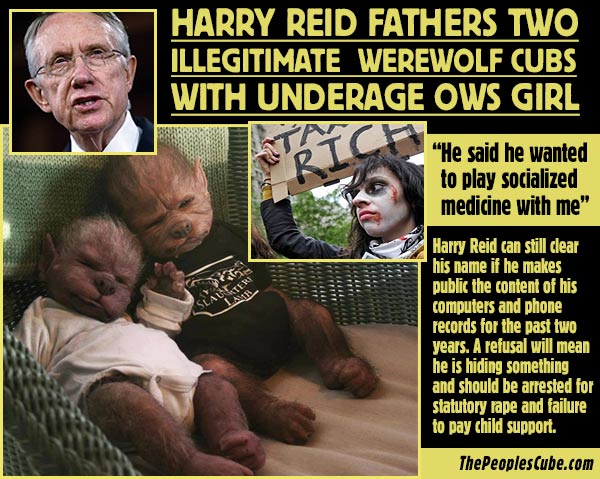 A "trusted contact" in Washington has sent us this photo, stating that the children in it are the illegitimate offspring of Senator Harry Reid and a young Occupy Movement girl he had intercourse with when she was only 15 years old. According to the source, Senator Harry Reid initially paid to keep her silent, but recently stopped all under-the-table child support.
The source claims that "Reid is going to use that money to purchase a plot of land in Nevada, on which he intends to build the most vile of Kapitalist shrines - a casino! A casino to suck up the money from the toiling masses - the money which could be put to better use by the State, for example, to finance the People's eternal struggle against the RethugliKKKans and their war on truth."
The seriousness of the charge calls for an investigation of this shameful offense. Just look at these babies. How could anyone be so heartless as to allow them to be born and then refuse to support them? The proof for this (we are told) can be found on Comrade Reid's computer.
Now, do we know that this is true? Comrade Reid has until this point been one of the People's greatest champions of Dear Leader's Great Struggle for total transformation of AmeriKKKa into a Glorious Socialist Utopian Paradise, proving himself many times over to be more equal than others. We must consider (for once) a chance for Comrade Reid to clear his name.
Harry Reid can still clear his name if he makes public the content of his computers and phone records for the past two years. A refusal will mean he is hiding something and should be arrested for statutory rape, pro-life offences, and failure to pay child support, which is a federal offense under the Deadbeat Parents Punishment Act.

El Presidente


El Presidente

The word is out! Harry Reid is a wife beater!

Opiate of the People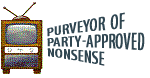 I will not know if this is true until I have a credible stranger whisper it to me under cover of darkness in an alley like all responisble Senate Majority Leaders do.... Wait, I'm getting some information now via my tin-foil hat..... Yes, yes, I understand.... He did WHAT with the bag of sheep dung???? And Nancy promised to donate a six-figure check to his campaign if she could watch? Wow.....


R.O.C.K. in the USSA

OMG, Comrades, this is truly amazing! I would NEVER have pictured Senator Harry Reid as a wife beater and illegitimate father of werewolf cubs! It just goes to show how little we really know about our governmental leadership.
Now, I HAD heard - rumors only, mind you, although there are photographs - of the senator's membership in the Ku Klux Klan:

Red Square

The identity of Harry Reid's credible source has been narrowed down to the following options:
The shoe shine guy from every 70s cop show
Son of Sam's neighbors dog
Jason Blair
Mirror, mirror on the wall
The DaVinci Code
Stevie wonder
His "inner comrade."

El Presidente

Leader
Red Square
. Your list was quite helpful in narrowing the search. I have obtained an image from
photoshop
a good source that the word is out that Reid got his information from a
Hoarder Wall Street
99%
'er. I cannot confirm my information but mere speculation without evidence should suffice.

El Presidente

Comrade,
Red Square
. It has come to my attention that Senator Reid is not pleased with your inquiry into his possible sources.

Year Zero

The pressures experienced by the Inner Party sometimes manifest themselves sexually, which must be tolerated so the rule of the proletariat may proceed. That actual proles are raped, sodomized and discarded is an unfortunate consequence. Comrade Reid has my blessing.


General Confusion

The above photo is taken out of context. This was either taken when he shaded in his lip gloss or was performing his daily digit manipulation test.


R.O.C.K. in the USSA


General Confusion

Another good line would be " I can't Reid anything"