Jíbaro

Komrades, it is with utmost Paяty fealty that I wish you a Joyous New Year Celebration

MERRY CHRISTMAS!!!!!!!

.

'Tis the season to drink lots of Stolichnaya, while recalling all the gifts olde Дед Мороз used to bring to our one room cooperative apartments. Believe me, a lump of coal was a treat in those Revolutionary Days.

As we ponder how to destroy Reaktionaries this new year, and get our Dэaя Lэadэя re-elected (Komrade Corzine was generous with $500 million from his M

#####

F

@@@@@

Global...), let us hope for a speedy recovery for Komrade Mitt, and his minions, as we aim to hijack the Elephant Party with our Manchurian Candidate, like we did with McCain.

R.O.C.K. in the USSA
I hear Manchuria is nice in the late Fall...

~ PROG blown into tiny little squares ~

Isn't it sad that the so-called "conservative" party can come up with such a flotilla of also-rans and then fool the sheep into thinking they're actually conservative? But any actual conservative(s) they allow the lamestream media to torpedo out of existence or ignore.

Can anybody say "Good Cop / Bad Cop"? Or "1-Party System"?

Sure. I like the way you say that.

~ PROG painfully reassembled ~

* shakes head on the way out *


Shovel 4 U
Just saying, these would look great under my Winter Solstice Festivus Beet plant this year.




R.O.C.K. in the USSA
Is there any way to get two of whatever the hell Joe Biden is on with my order? I'd be willing to pay up to an additional $9,999,999.99 if necessary.


Pamalinsky

Merry <off> Christmas <on> to you too, dear Jibaro! Jeez, even I, a made prog, find some of this PC crap annoying, especially when I have to use the on/off button! Aargggh! : • ) X!
This next year will indeed be a trial. We shall prevail! I stand in solidarity with you!


Krasnodar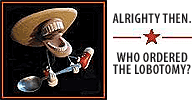 R.O.C.K.
,
Joe Biden's not on anything.....that's the problem.
Any further explanation would involve genetics .

Comradessesses Pamalinski,

FYI:

It would be advisable not to complain about inconveniences when posting.

Red Square

could easily have our dear Josef Stalin at the top of this site asking us far more " pointed questions" than " Did you log in ?" before allowing us to post. If he doesn't like what he hears, He'll just delete your post.

(And perhaps you as well...... if you're too insistent with criticism ! )

Remember Trotsky........