Genosse Dummkopf

.
Our entire Planet tracked spellbound the recent World-Event: Titan of Pennsylvania Ave 1600 and Transatlantic Leader of the Free World gracefully blessed the masses of Krautlandia by personally, Himself, descending down from The Heavens in His Flying-Carpet-1 to touch the surface of Earth in Berlin, Tempelhof (Apr. 24, with the world media, like, totally abuzz). And our Kube-dedicated KrauTeam (KT) wrestled special access (!), presented here below.
DISCLAIMER : All pics courtesy of extern Graphic & Photographic Proletariat, sweatily toiling in the Casemates of Visual Industry.

Air Force 1 corkscrewing into Berlin. Cute ground-bound pioneers waving.
He made Himself visible to the welcoming masses in the exit hatch, hopped down the squeaky stairs in His sportsy-hoppsy style - fotogs in front of Him, crawling backwards on knees -
bzzdgg
,
bzzdgg
,
bzzdgg
- and presser started.
~
Herr Hop gave a sketch of a Nuke-liberated Planet under centrally Gov-controlled Climate™.
"I can no longer sit back and allow the unfettered croûtons [meaning protons] to appropriate our precious pristine Climate™," He said.
Q/A followed - mainly a to and fro with KT (KrauTeam, that is).
~
TRANSCRIPT:
Q : Uh, Herr Hop - What is "Hop" and why?
KT: Simple. 2008-9: full hot air mode, HopeyChangey. 2010-2012: pffffffft... HopCha. 2013 and counting: reduced to Hop. Prickly, cocky, vindictive. Simply Hop.
Q: Uh, and Herr means Mister, ja?
KT: Yep.
Q: Uh, last Q. There is rumor about a major leak, ja? The aim of the meeting, ja? Geleakt?
KT: Nope.
And then Herr Hop, sportsy-hoppsy style, hopped to His personal car-like panzer, the Beast, to visit Frau Merkel who prepared Him lunch. (Life-Style column noted: Hearty Sauerkraut avec Arugula, pure organic; entrée Vegan Schweinebraten with
Dijon Mayo
).
That was there, in the High Spheres Of Power.
But here, Kube-intern, a significant meeting started. Says KT:
Vee haff here an agent, very gut, 100% reliable. And dset got his hands on Hop's "adshenda". And vee haff dset material.
Here content, summarized (but psst, it's above top secret - special access, you know):
[ transmission from Mo..ow ] [ eyes only ! ] [ excluding Herself ! ] [ keep off Chappaqua ! ]
[ material : Agent xx7 ] [ station KGB/StaSi ] [ no disclosure ] [ don't even think of asking ! ]

● confirmed: WashDC, new program; level : highly advanced; basically operational; test


...

upcoming; codename SATAN.
● SATAN: Speedy Appropriative Transmission Attack Neurotraptor.
● Functionality: single-person target; neuron-level penetration;


...

effectuality: appropriation of target's cerebral content (if any).
● Operation mode: SATAN-box attached on target capita-wise;


...

SATAN-sensor/oculographic connection [1]; content transmission.
● The next version, SATAN-2, will also provide a way to download content;


...

straight into the target, via the neural Network.
● [ Zionists work on a similar project ; codename Little SATAN. ]

[1] Shakespeare, William - Eyes/Window/Soul, London, A.D. 1597.
But.. back to Berlin. Sauerkraut-banquet is finished.
Frau Merkel:
So, now let's do business
.
Herr Hop:
Jawohl - a Historic, Unprecedented photo-op
.
Frau Merkel:
(aghast, long pause...)
Frau Merkel (claps three times, shouts):
Fotogs herein! Speedy, speedy, time ist money!
And here Operation SATAN starts - operability test. Out of thin air, some gorilla in Hop's entourage produces a pretty idiotic box, presses that awkward gizmo into Hop's hands, and whispers shortly in his bat-like ear.
Herr Hop:
Look Angie, here we got a New Apparatus, ja
?
It is for Peace and against Nukes and for Klima on the Right Side of History, ja
?
Frau Merkel:
phyh
.
Fotogs (in chorus):
Jawohl, yes, foto-op
!
Frau Merkel puts that thingy on, looks like out of The People's Cube, can see nothing, and electrons start :
zzzzgrg
-
bzzdrrr
... and intern send-antenna nearly bursts under the load of out-transmission. Meanwhile Herr Hop, eager for Historic, Unprecedented pics, shows off for fotogs and makes Frau Merkel a laughingstock - like, totally appropriates the Bundeskanzlerin :
Then, making her the butt of his "joke", Herr Hop plays The Single Adult Man In The Room & Benevolent Leader :
Finally, Frau Merkel, pretty dizzy, gets the SATAN-thingamajig off her face, and says :
buoaaa, that was, like, buoaaa
...
and now your turn
.
Herr Hop, fishing for Historically Unprecedented pics that show Him, like, Unconventional Leader - while fotogs hoot - jumps into the fray. SATAN on, fingers in V sign. Fotogs:
bzzdgg
,
bzzdgg
,
bzzdgg
.
Now the Historically Unprecedented suddenly looks like a scared poodle :
SATAN obviously appropriates Him, The Smartest Person In Any Room, while Bundeskanzlerin enjoys her lil' revenge:
Foxy Lady that she is, managed to outfox Hop, The Dumbo.
ADDENDUM.
Q : That dual lady - laughing, always close to Frau Merkel - who is she ?
A : Didn't we say :
[ no disclosure ] [ don't even think of asking ! ]
?
Anm.d.Red. / Ed.
We apologize for a booboo. The "pioneers" scene is actually a Cold War reminiscence. It shows Berliners - kids foremost - greeting
Rosinenbomber
(Candy bombers aka Raisin bombers).
Yet, at this point, what difference does it make ?
_____________________________________
( mini-insight into Candy/Raisin bombers
here
)

Red Square

Was that gizmo something similar to Hillary's RESET button?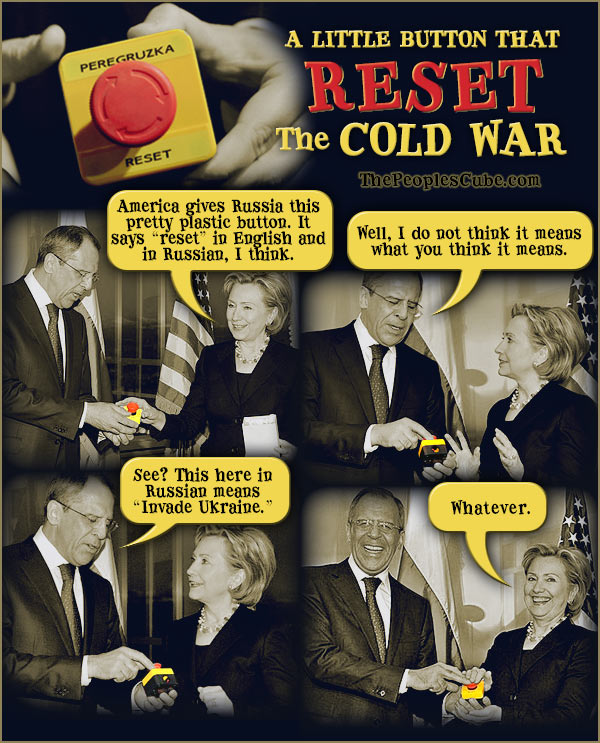 Genosse Dummkopf

Red Square
Was that gizmo something similar to Hillary's RESET button?
Given
this
administration, it appears imperative to (automatically!) answer : YES.
The same procedure as last gizmo, Ma'am Incompetent ?
The same procedure as every gizmo, KnuckleDragger !
... and that PYERYEGRUZKA/PYERYEZAGRUZKA conundrum, coming like a blitz down on them dumbos !
Lavrov - when given that idiotic gadget - was for a second or two visibly discombobulated, trying to make sense of the vyeeeeeri ambiguous "message" : OVERLOAD. hyh? To read as "we are sick and tired of our relations" ?. (+Reagan : We begin bombing in five minutes
J
)
(the graphic is very elegant - same for the joke.)