Chairman Meow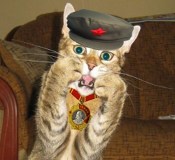 In what is being called the worst political disaster in American history, Hillary Rodham Clinton broke the glass ceiling on Tuesday night, injuring thousands at the Wells Fargo Center in Philadelphia.
Those in attendance at the Democratic National Convention little suspected that nominating Clinton would result in catastrophe. The evening's events began innocently enough with a montage of the first 43 presidents on a large video monitor above the podium. Suddenly the face of Hillary Clinton appeared via live video feed, emerging through flying shards of glass. As the first rows of conventioneers reeled back from the stage with multiple lacerations, Hillary's booming cackle filled the convention hall:
"What an incredible honor that you have given me. I can't believe we just put the biggest crack in that glass ceiling yet!"
The rest of her speech was drowned out by the screams of delegates as the glass ceiling of the Wells Fargo Center collapsed on them.
Throughout the night emergency medical services carefully picked their way through the glass-strewn convention floor, rescuing and treating the wounded. Bill Clinton also gave a speech.
One of the injured was MSNBC's Chris Matthews who commented that Hillary's announcement had given him another thrill up his leg. However he realized it was just a phantom thrill when he looked down and saw that his leg had been severed above the knee by a piece of falling glass.

Minitrue

Meanwhile, a group of staunch democrats tried to ward off a "Dementrump". These terrible monsters use a "breath of truth" that makes leftists shiver and lose conscience, and turns off all the lights in the vicinity.
Luckily they had their "Bernieculus Maximus" spell and wands at the ready!

Apparatchik Unkulturny

My
Our
Peoples Beet Kollecktiv
has voted -
UNANIMOUSLY!
- to use the following chant as our
Marching Cadence
during our
Riot Protest March
should
Commissarka Hillary
not be elected
be
cheated
of
Her Rightful Turn as

President
of the (
ptui, ptui
)
"united states of Amerikkka"
:
Who Are, Who Are, Who Are We!
We Are, We Are, We Are The -
Comradely Workers Of Peoples' Beet Kollecktiv #4327 From The Peoples' Heroic Revolutionary Soviet of Austin,
Standing In Solidarity With The Workers Of The World Who Are Struggling Against The Oppressive Boot of Their Oppressive Masters,
And Challenging The Crypto-Fascist Establishment for Denying Peace And Justice Candidate Hillary Clinton Her

Rightful Place

As

PRESIDENT

Of Our

New Workers' Paradise

!

(You must Trust Me - It Marches much better than it reads...)

Red Square

She broke something, but it wasn't the ceiling. The first womyn nominee from a MAJOR party, you say? True, but not "the first ever"...
Poor Hillary, she just can't catch a break.

Neotrotsky

Comrades,
it was beautiful thing ... watching the Queen
but the coronation is not complete
The racist right wing is trying to keep the people from their Progressive Queen
We need our own progressive Joan of Arc, to help us get
our Queen to DC to be properly crowned!
Damn Republicans and their elections

Captain Craptek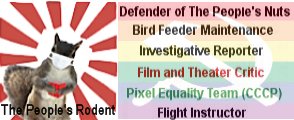 Pamalinsky

Red Square
She broke something, but it wasn't the ceiling. The first womyn nominee from a MAJOR party, you say? True, but not "the first ever"...

Poor Hillary, she just can't catch a break.

FIrst_Woman_Nominated_Woodhull.jpg
<OFF>
Wow, Comrade Red Square, I never knew that. Awesome. You know more about our history than I do, and I know enough to love and respect it.

LevaP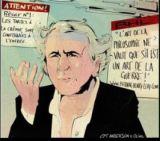 Stronger Together America, Hill Yes!
Is your hair black, blonde, red, brown, grey, missing, other or kool-aid green? Are you breathing, breathing with medical assistance, or just plain dead? If you answered Yes to any point above, remember in November to;
Hail The Many Titted Imperial Empress, Together America!