Hammer and Loupe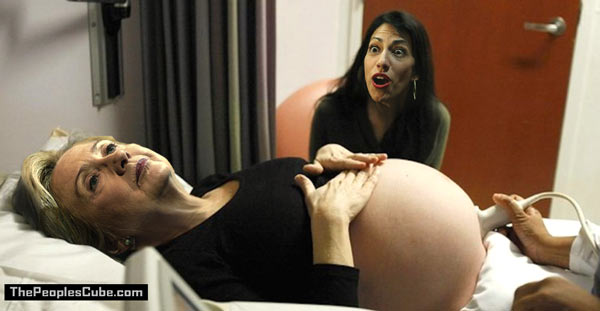 What's up with all her ugly sweaters? A recent insider report suggests Hillary may be wearing them to drive the attention away from her belly, as well as from her healthily sagging chest. Her close associates say she looks beautiful in her bathing suit in Hawaii, just like President Obama.
No, she does not have a beer belly. The presumptive Democratic nominee is reported to be heavy with another child. While her first child, Chelsea, is also having a newborn of her own, she is about to get another sibling from her mother. Two for the price of the upcoming presidency.
The babies are expected to be treated like the American flags at Hillary rallies.
Questions abound. What will the baby look like? Will it be transgendered? Is Bill the real father or did Hillary find a donor? Or did she, perhaps, swallow another human and is making it look as if she is pregnant? The answers will have to wait until the election day. That's just policy.
What we do know for sure is that she will win this election by raising the people's awareness of the Current Truth through the People's Cube and other loyal news services and spam bots, all as equally transparent as marmite - or vegemite if you are from down under.
Read the People's Cube 24/7 for more Current Truth updates and donate as much as you can to our PayPal account. If you were about to donate to Hillary's campaign, make that donation directly to the People's Cube to avoid delays and bureaucratic hurdles!

Comrade Makarov
The serpent is due any day now. Excorcists are standing by with sickle & Hammer.