The Lurking Comrade

Comrades!
After the
smears and thuggery
committed by the evil
RETUGLIKKKANS
last month, our dear, sweet, smart, innocent, wonderful, smart, charming, & smart former Secretary of State knew it was best to set the record straight.
So during the Womyn of the World Conference last Thursday, she was given the chance to firmly place her accomplishments into the hearts of minds of oppressed womyns everywhere, up to, and including the man also there at the Womyn of the World Conference.
Such inspiring quotes from the video as follows:
Madame Pantsuits
Look, I really see my role as Secretary, in fact leadership in general in a democracy, as a relay race. When you run the best race you can run, you hand off the baton.
HILLARY 2016! HANDING OFF THE BATON!
Our Once and Future Queen
I'm very proud of the stabilization and the really solid leadership that the administration provided that I think now, leads us to be able to deal with problems like Ukraine.
HILLARY 2016! STABILIZING THE WORLD SO WE CAN DEAL WITH PROBLEMS LIKE UKRAINE!
The Smartest Womyn in America Ever
Then of course, a lot of particulars, but I am finishing my book so you'll be able to read all about it.

HILLARY 2016! WAIT UNTIL THE BOOK IS RELEASED!
Comrades, I can't wait till we finally get such a smart leader inside the White House to fix all of our problems
that she helped cause
.

Ivan the Stakhanovets

Yes, I'll vote for this book before I can see what's in it...


Doktor Eugenica Killemov

$.$. Halliburton

Q: When you look at your time as secretary of state what are you most proud of?

Hillary: I handed off the baton to someone else.

Okay. I'll buy that.


Red Walrus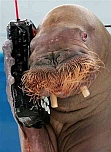 Yes, HillDog did hand over the baton, but, didn't you listen closely $$ Halliburton. She solved the worst economic crisis since the Great Depression. She fixed 2 wars by bringing everlasting peace. She fixed incessant threats from corners in and about the world. She worked with solid leadership provided to her. She reduced our peril to less than zero. She shored up The EU and told China to hold our Government debt until further notice. She enabled all people of the world to see us as the value setting entity the world must follow. Geez $$ Halliburton can't you see she answered the
fu*$ing idiot's
sensitive commentator's question with unequivocal precision?

Chairman Meow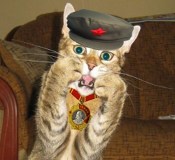 Madame Secretary of State accomplished what we all dream of:

El Presidente

TPC's crack team investigators have uncovered some file footage of Queen Hillary
"handing off"
the baton.