Red Square

The mystery of the disappearance of Bryan Pagliano - the former State Department employee who set up Clinton's email server - has been solved due to leaked security footage from Hillary Clinton's election headquarters.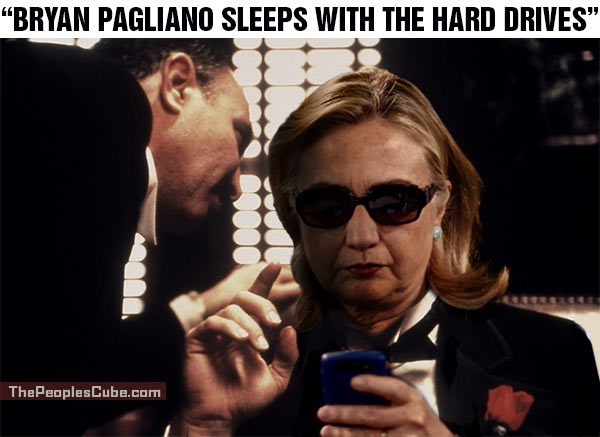 Questions have been raised
why Pagliano, who can't invoke the Fifth because he was granted immunity by the FBI and cannot be prosecuted for anything he told them (and if he repeats the same thing to Congress, he can't be prosecuted for that, either), chose to defy the Congressional subpoena and
not show up at all
.
These questions have been answered today when an unidentified Clinton's "IT consultant" was heard on the tape saying that "Bryan Pagliano sleeps with the hard drives."

Minitrue

Word on the street: the Clinton Campaign delivered a hard drive wrapped in a newspaper to the house of his parents...

Clara Illbustyourballs Zetkin
Well I heard on good authority that Mr.
Bryan Pagliano was sucked into the same abyss that America's control of the internet is being sucked into.


Here's what the sucking sounds
like.............

Pamalinsky

Red Square
Bryan Pagliano sleeps with the hard drives.
And, with the fishes, too!