Kommissar Chernobylski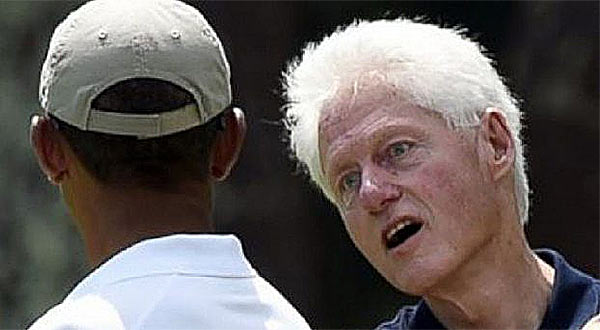 API: Bill Clinton in heroic second try convinces the president that he has not inhaled in years
The latest Reuters polling of deceased voters in Ohio, Wisconsin, New Hampshire, Florida, and North Carolina show a definite trend favoring Hillary Clinton and Democrat congressional candidates, as likely dead voters are registering Democrat in massive numbers. Dead Democrats, as well as Republicans who switched parties right after internment, are rising in droves chanting, "Stronger Together."
Many of the respondents who have failed to inhale for years show a definite preference for the familiar look of the soon-to-be departed former Commander-in-Chief pictured above, as well as his wife, who appears in a cameo role in frequent coma. Contrary to popular opinion among the still breathing, familiarity does not breed contempt in the dearly departed. Instead, physical familiarity with the permanently-rigid brings out the vote.
Most of the surveyed non-breathers have also showed preferences for low-energy presidential candidates with wobbly knees who are unable to ascend two steps by themselves without unintended loss of consciousness. The dead especially like candidates who have memory loss about emails no longer on their private servers.
Swing states' Democrat Party chairpersons have always been able to correctly predict massive turnouts of the embalmed. Anticipating strong necrophobic resistance from Tea Party types and other conspiracy theory aficionados, Democrat leaders in the House and Senate vowed to preempt the living, by expanding civil and voting rights of the decomposed, and by eliminating voter ID requirement.
The dearly departed have risen for the Democrats in past elections in large numbers. This year the Democrat strategists predict a record turnout. Back in 2008 and 2012, many non-breathing humans have been reportedly spotted walking about the Main Streets of the smaller towns of Ohio and Wisconsin, heading in the direction of the polls, some in shredded outfits painfully dragging their bones, trailing dirt and streams of formaldehyde. The cost of cleanup has never been an issue as it's always been paid for by the losers.
In Brooklyn, Clinton Headquarters moved with urgency to motivate the exhaling-impaired to shrug off six feet of compacted dirt and get themselves to the polls at least twice. Given that this may be the most important election of their afterlives, mere disability like personal decomposition will not do as an excuse to fail to vote.
Last week Hillary Clinton returned to graveyards and funeral homes in Ohio, Wisconsin and New Hampshire with a louder megaphone in a final attempt to generate enthusiasm for her candidacy among the passed away. Pandering to the most loyal Democrat constituency whose dismembered members never bother to scrutinize her platform, Mrs. Clinton promised that the dead can - this time - take it with them, and pledged to give every permanently-rigid Democrat an autographed photo of her husband pictured with the current president.
The results of her efforts are the ever increasing poll numbers among the permanently unconscious. According to the RCP polling average, not a single Stiff-American is expected to cast a vote for Donald Trump or any other Republican candidate on the ballot. They never do.

Comrade Putout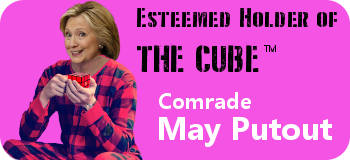 .
.

Red Square

A brand-new Democrat voter right there. She's unstoppable.