Captain Craptek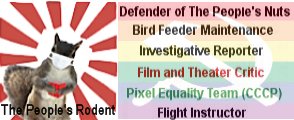 The Libertarian Republic:
An unidentified homeless person seeking food and shelter from the oppressive heat was thwarted in his effort to commit a necessary act of spontaneous Marxism by a pistol packing capitalist. The destitute man had been wandering aimlessly through the streets of Marionville, Missouri for days when he noticed the shop keeper, Mr. Alexander, alone behind the counter of his convenience store. With only the possessions he could carry or wear - the clothing on his back, a small cigarette butt, and a 45 automatic pistol - the starving man stumbled into the store and approached Mr. Alexander.
"Sir,"
the homeless man croaked in weak, muffled voice,
"Sir, could I please have some money."
Alexander looked up at the pitiful soul, and without so much as a word of compassion for his sorrowful plight, drew a 9mm Walther PPX and shoved it in the man's face, screaming, "Get the (bleep) out of here or I'll blow your (bleeping) head off!"
Police have been unable to locate the starving, homeless man as of this writing. It is feared he may have been mugged and left for dead somewhere in the back alleys of Marionville.

R.O.C.K. in the USSA

It's for the best. He's white (RAAAAAAAACIIIIIIIIST).


Ivan the Stakhanovets

How can this Kapitalist shopkeeper have a gun, and who does he think he is DEFENDING himself? The poor victim never got a chance to use his own gun or to explain the possibilities of trading hard to get ammunition for staples like beer, or a slim-jim. I'm appalled.


Red Walrus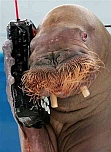 Maybe Dear leader can fly one of his drones over this depraved shopkeeper's den of filth and capitalism and drop a few daisy cutters into the heartless fiend's front door? It appears to work for Dear Leader in many countries around the world. Why not in Missouri Oblast?

Dedhedvedev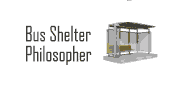 Spontaneous marxism is de facto marxism. It needs to be fundamentally transformed into de jure marxism. All the stuff is there. The people should be able to legally go and take whatever they want need, just like the government.


Fraulein Frankenfeinstein

I am sure dear leader will send the appropriate actions!
oops, EITHER OF THESE PEOPLES ARE OF BLACK HERITAGE... I am thinking, he will do nothing.
cough, will carry on.

Anyer Marx

It seems that we must certainly agitate for more and better equipment and training for our poor and homeless so that the redistributive process may proceed unhindered. A political commisar must be sent immediately to this Marionville, Missouri outpost, and a train ride arranged for this "clerk."