Opiate of the People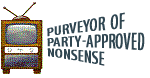 Citing a legal precedent established by the life-changing administration of demi-god President Barack H. Obama and his iconic AG, Erick Holenhead, a suburban NJ town today established the practice of holding criminal trials in the homes of purported victims. Officials in the township of Corzania, NJ, led by local prosecutor Justin A. Corn, announced that the trial of accused burglar Mohammed El Kaboom John Smith, will be held in the home of alleged victim Vera Squishee of 15 Outta Place in the township.

Mr. Smith, who originally hails from Kabul, Afghanistan Delaware, is in NJ attending vocational school where he is learning to run nuclear reactors. The complaint against Mr. Smith alleges he broke into Ms. Squishee's home near the Olden-Shakee nuclear power plant in the township and ransacked the place looking for money and jewelry. Afterwards, he allegedly planted a number of oddly shaped containers around the house which probably do not contain explosives. Mr. Smith was allegedly in the process of writing "Allah Akbar" "Palin for President" all over the walls of the home with spray paint when he was beset upon by a large dog belonging to Ms. Squishee's next door neighbor, Buck O'Fama. The dog, Liberty, attacked Mr. Smith and took a large chunk out of his gluteus maximus, after which Mr. Smith went running down the street screaming bloody murder in a foreign language, probably Swedish.

Mr. Smith's court-appointed lawyer, Chuck Feney, claimed Mr. Smith was never at Ms. Squishee's home and if he was, it was to deliver the containers which do not contain explosives which she ordered from him. Mr. Feney explained it was always a dream of Mr. Smith's to have a small business delivering containers which do not contain explosives to people who never asked for them.

The ACLU is planning to enter the case, citing a possible infringement of Mr. Smith's First Amendment rights. The ACLU stated that Mr. Smith's religion requires him to blow up things and the state's inhibition of him doing so impinges on the free practice of his faith. When asked if Mr. Smith was a Muslim what religion Mr. Smith was, ACLU spokesperson Chris Kissbutt stated, "It's unconstitutional to ask him that but if he were to state that his religion requires him to blow stuff up, the court would probably have to take his word for it and let him off (wink, wink.)"

In an unrelated matter, the ACLU is planning to file a civil suit for one billion dollars on Mr. Smith's behalf against Liberty, Buck O'Fama, the Township of Corzania and the state of NJ for violation of Mr. Smith's Fourth Amendment Rights, namely the illegal search and seizure of a large chunk of Mr. Smith's right buttock.

The trial is expected to begin in about two weeks. Mr. Smith's lawyer Mr. Feney publicly warned Ms. Squishee that there had better not be any pork in the house and that for religious purposes, his client Mr. Smith would need to know in which direction is Mecca Dover. And no store brand hummus, either.

Mr. Corn was asked if he was worried about rumors of a possible terrorist attack burglary on the home during the trial by a group of people claiming to be associates of Mr. Smith. Mr. Corn dismissed this talk, saying "Nah, I've met them, they're just a bunch of fun loving guys from Delaware with beards and swords. And lots of containers." Mr. Corn also stated his office would be posting directions to the Squishee house so "Mr. Smith's friends could come and lend moral support to the poor guy during the trial." He will also post the code to Ms. Squishee's burglar alarm so if anybody comes early they can drop off their heavy containers and go get something to eat.


Comrade Whoopie

Alinsky Akbar!