Comrade Pavlovski

I don't know what is wrong with me. Perhaps Rethuglicans came in the night and poisoned my well; but I can be silent no longer, for not one more moment. I hear the sad mewing of the puppies in my nightmares and fear I will lose my mind if I don't speak out. Couldn't Dear Leader become a vegetarian like the rest of us? It seems that Moochelle is preparing a special birthday dinner for the one. I am reminded of dear Ida Amin Dada and the horrors that once took place on the grounds of his palace.

Ivan Betinov

Nuthin' sez luvin' like a pup in the oven.


Opiate of the People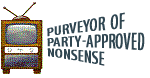 Ummm, this photo shows puppies all of the same flavor. Where is the diversity? I detect a possible thoughtcrime, not to mention a boring dinner.


Shovel 4 U
Blasphemy. I'll have you know Dear Leader does not discriminate based on age, gender, doggie style sexual orientation or breed.

TheFineReport.com

Very funny stuff, in an otherwise Obama-eat-dog world.