Red Square


When our
old spoof of the NYT front page
(below) was first published, we were being chided for "going over the top" by suggesting that the prog media's denunciation of Israel's 2006 intervention in Lebanon was the equivalent of the New York Times saying in 1943 that the Jewish uprising against the Nazis in Warsaw was an overreaction. As it turns out, we were even more on target than we had imagined.
In this recent TED Talk video from October 30, 2013, a young historian from New York named Anna Blech makes a convincing indictment of Arthur Hays Sulzberger and the New York Times, who deliberately downplayed the Holocaust by concealing reports that could have saved thousands if not more during WWII.
This is more than just life imitating the People's Cube. And we here thought that the progs today have become too absurd to spoof. It now appears they had always been like this, they just know how to rewrite history too well.
We should be careful about what we spoof; a random satire may just turn out to be a hair-raising reality.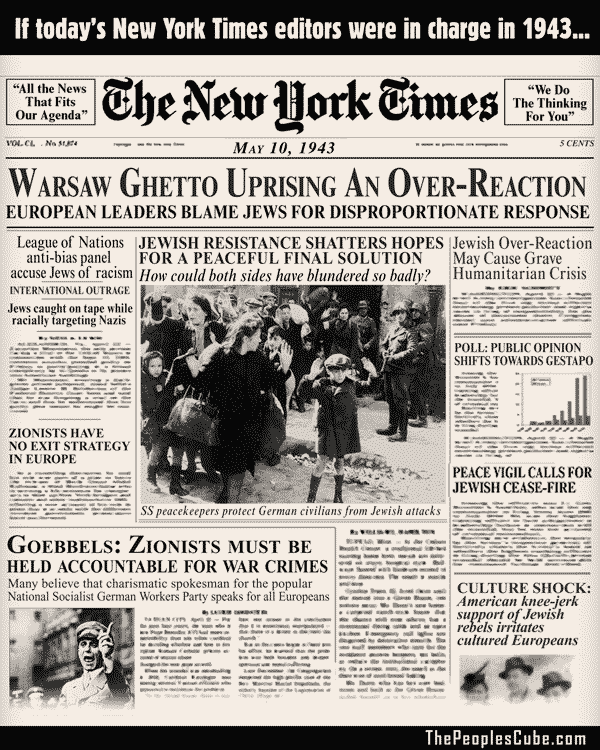 Anyer Marx

Fortunately, our modern progressive media is yelling ...
With eyes clamped shut and fingers firmly embedded in their collective ears they are yelling "NANANANA-racist-NANANANA...."

Red Walrus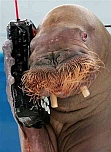 I feel so ashamed as once, in a drunken beet vodka stupor, I questioned Comrade Bashir's use of fiery progressive rhetoric. I am quite certain there are other fellow comrades here at The Cube who may have crossed the "Red Line ™" and need to repent as I have.


Opiate of the People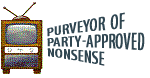 There was an article on the internet some years ago where the writer stated the NY Times was as big a fan of Hitler as it was of Stalin before WWII. Stands to reason - the intellectual fad of the era was that democracy and freedom didn't work and that "scientific, enlightened central planning" was (then, as now, as always) the wave of the future. If that author was correct, it may be that the Times was reluctant (and embarrassed) to reveal how wrong they were. Just like now with Obama.

Captain Craptek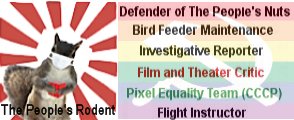 Great Stalin's Ghost

Sorry to disagree comrades, but what this clearly demonstrates is that the People's Cube is a piece of the vast Zionist Conspiracy ™, a conspiracy so vast that it not only controls the present, but it also controls the past.


So, better don't nobody #&%! with the People's Cube!


Bill G
Comrade Opiate of the People, recall that Stalin and Hitler were allies to begin with. It only would have lasted as long as it took for one to turn on the other, as they both wanted world domination, but they were allies.