Jíbaro

I denounce Belgian Dr. Peter Piot for saying that e-BOLY can be stopped by West Africans STAYING HOME:
Link - "I THINK CURFEWS WORK IN CASES LIKE EBOLA."
~
Doesn't Dr. Piot know that President Obama and Thomas Frieden, the director of the Centers for Disease Control, both say that an e-BOLY pandemic can't be stopped by closing the Borders, and that in fact we should send thousands of medically untrained Americans to West Africa to stop it?
Dr. Piot is a hooligan who dangerously flaunts his medical expertise by contradicting the DЭMOCЯAT Paяty Dэaя Lэadэя and his CDC Mouthpiece.
Dr. Piot should be sent to the Gulag (or a Liberian hut) to be rehabilitated from his Bourgeoisie notions that quarantines and such can prevent the spread of GLOBAL WARMING produced pandemics.
What do you think?

Jíbaro

In the mean time, THE WASHINGTON POST criticizes the Dallas-Texas Liberian Community for placing the DUNCAN-TROH Household on isolation, Лiиk. Dэaя Lэadэя Obama should force Liberian Americans and everyone in the Texas Republican Party to hug and French Kiss the DUNCAN-TROH Household: this is the time when Ebola suffering families need as much direct human contact as can be had in a drunken gay wedding reception.

Jíbaro


Pamalinsky

Yet another brilliant use of the people's good against them. Yeah! That's the ticket! Destroy everyone's innate impulse toward charity by force of penalty. The good in people is a powerful force.
Let's use it against them and redirect it to our own ends.
We, the state, will define what charity is and penalize anyone who doesn't agree with us. For the greater good, of course. We know what's best for you.
The discoverer of Ebola, and his comments about it are totally against the state. Therefore, his comments are invalid! We, the anonymous state say so! Therefore, it is!
Oby-Gyny does rhyme with e-boly, sort of. So let's go with O-boly!

Captain Craptek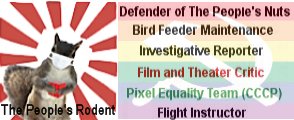 Just because some old so called "Professor" Piot dude isolated and named the virus 38 years ago is no reason to pay attention to him now! NOW, we have OBAMA and the CDC, and the WHO, and,....and,....a whole bunch of professors and other guys with really special titles and stuff. Let the experts deal with this - I'm busy....and where the hell is my clicker!?