Dances with Socialists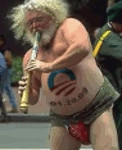 OK, I was never good at prog speak, so here's a picture.

Margaret
Oh, good game!

Here's one:

If the facts don't fit put on a play and pretend they do.

Donald Trump becomes Caesar, the man that destroys the Republic. Complete reversal of the fact that he is the one trying to restore the Republic.

Trump Caesar's assassins are the demagogues who murder him in order to destroy the Republic.

Obama's whole project was Ceaser-like but he thought or pretended he thought he'd won the civli war that Rome had had to go through that Caesar had subjected them to take over and destroy all constitutional norms the Roman Republic had. The norms meant to prevent one man with total power rule.

Caesar in the Park is like the murder of Caesar as told by the real Caesar pretending to the audience he's not Caesar but is one of the Republic's most ardent defenders.


Comrade Svyet
.