Red Bubba

GALVESTON, Texas (Reuters) - Hurricane Ike closed in on the Texas coast on Friday with a wall of water and U.S. officials warned it could be a potentially catastrophic storm and flood 100,000 homes.
Hurricane Ike has nevertheless taken a modest lead over Barack Obama entering the final seven weeks of the presidential contest, buoyed by decisive advantages among suburban and working-class whites and a huge edge in how people rate each candidate's experience, a poll showed Friday.
Ike has had some success parrying Obama's efforts to tie him to the deeply unpopular President Bush, according to the Party poll of likely voters. Half say they believe the gulf hurricane would chart a different path from Bush, including a slight majority of independents, a pivotal group of voters. Dependents, however, continue to trust in Obama.
The survey has plenty of positive signs for Obama as well. The Illinois senator is generally doing about as well with whites as Democrat John Kerry did in his losing but close 2004 race against Bush. Obama has an 18-percentage-point lead among deceased voters, unregistered voters, felons, and likely voters among foreign deceased unregistered felonious illegal alien sex offenders. He also leads among voters who look more to a contender's inexperience and allusions of giving away handouts, than to experience and executive ability. Obama also has a modest advantage in the number of supporters who say they will definitely drink the party koolade for their candidate even against their own self-interest.
Ike was expected to come ashore overnight, possibly as a dangerous Category 3 storm on the five-step intensity scale with winds of more than 111 mph (178 kph, mph is so Yankee-centric), the National Hurricane Center said. Obama is forecasted to offer the Clintons separate seats on the nation's main legislative body, the Supreme Court, in exchange for their help on the campaign trail.
Millions of coastal residents could be left without power, authorities said, also giving assurances that millions of residents in flyover country will be left without power as well. Although he is showing signs of dissipating, Obama could still have time to build into a Category 10 catastrophe. So far this week, he has run against President George Bush, Sarah Palin, two of Sarah Palin's children, her brother in law, the town of Wasilla, "stupid' voters, an unidentified pig, Pontius Pilate, Karl Rove, Hurricane Katrina, and Senator Ted Stevens. It's only a matter of time before he runs against Ike, political performance art experts say.

Father Prog Theocritus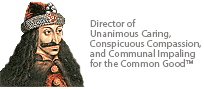 If you listen carefully to a hurricane's winds you can make out muttering which is more informed about foreign policy.