Red Square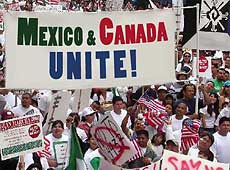 There are many excellent ways for us to destroy capitalist America - and progressive immigration policies are among the best ones. The key word is
progressive
.
The traditional, non-progressive immigration of bourgeois wannabes and capitalist bootlickers will only strengthen this last refuge of world capitalism - just like traditional education, media, and economic policies will make it stronger. Only
progressive
immigration, education, media, and economics will help us achieve the cherished goal of America's demise.
Assimilation is the disease; multiculturalism is the cure!
When In Rome Do As The Vandals Do

What had ruined Pax Romana? Rome fell when most of its patriotic, idealistic citizens perished in wars with barbarians, while their place was taken by new immigrants seeking the benefits of Rome's superior welfare system. Uninterested in Rome's greatness, the newcomers went on to vote for senators who promised more breads and circuses. Eventually, when handouts and entertainment began to determine the nation's character, it was only a matter of time before the Huns and the Vandals killed them all off. The heartwarming similarities with Pax Americana are obvious. It is only a matter of time!

---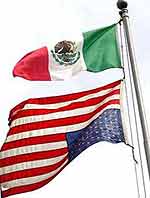 Despite the obvious successes of the French socialist model, many Americans are unwilling to sacrifice their self-interest to cultural and linguistic diversity. This is blatant fascism and selfishness. Such people must be singled out, ostracized, collectively condemned by the media, and ridiculed daily by designated Party comedians, such as Jon Stewart, David Letterman, Jay Leno, and Conan O'Brien.

---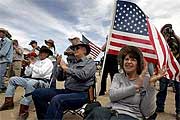 Right-wing "Minutemen" extremists have been running along the border like headless chickens, not knowing what had hit them. They've been trying to restore "order" and stop "chaos," unaware that "order" is really for us to control, and "chaos" is just another word for a carefully laid out strategy.

---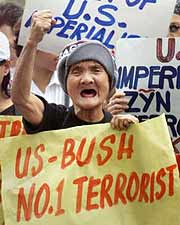 A trained minority activist pays us back with loyalty and obedience for a promise of a life with no risk and some small rewards.

---
.For decades, progressive educators have been teaching Americans that all cultures are equally valid - except for the reactionary Western culture. The extremist idea that new immigrants must assimilate has long been discarded as bigoted and racist. With the arrival of a critical mass of new immigrants from superior cultures (like Mexico, Bolivia, Pakistan, etc.), the old and inferior American ideas that contributed to this country's so-called "prosperity" must wither away - replaced by better, progressive ideas of those whose shantytown outlook was shaped by government corruption and meager bureaucratic handouts.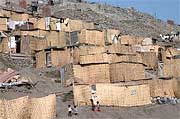 Shantytowns: the new desired look of American suburbs
---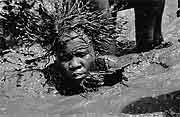 Voodoo practice: progressive minority immigrant resists assimilation into the racist US culture
---

Kennedy: my immigration system works: the last thing we want is new immigrants turning Republican
---
Removal of the remaining right-wing extremists in the US government will make way for the unspoiled, unassimilated immigrants to recreate familiar cultures inside the US, with their progressive moral climate of tribal safety nets, communal sacrifice, and zero tolerance for individualism. See
here
and
here
for illuminating examples from the The New York Times.
With the extinction of the offensive US culture, a new era of peace and diversity will ensue. True minority cultures are never offensive to one another - and even if some are, it will create for us thousands of lifetime government jobs, to arbitrate what is offensive and what is not. Is this not the new world worth fighting for?
Ted Kennedy, Immigration Czar
Fortunately for our movement, the US Immigration system has long ago been penetrated by Senator Kennedy. Serving as Chairman of the Senate Subcommittee on Immigration, he has chief oversight responsibility for the Immigration and Naturalization Service. The bourgeois propagandists will tell you that he
has allowed the INS to degenerate
into one of the most ineffective agencies in the Federal Government. Of course, that is a lie - but it is a lie that we want the bourgeoisie to believe. What they foolishly perceive as ineffectiveness will very soon effectively tip this country's cultural balance, and the majority will call for implementing
the Party's original plan
. Says Ted Kennedy, "My system is perfect: the last thing we want is new immigrants turning Republican."
Comrade Ted
has been on the forefront
of our efforts to eliminate the right-wing culture of the so-called "Founding Fathers," substituting it with progressive collectivist cultures of the Third World, especially those steeped in the progressive religion of Islam.
Ted Kennedy also cares about immigration from the land of his ancestors: "People who have harvested the fruits of the new Irish economy and capitalism need not apply - you will be rounded up and deported before you can say 'Irish Republican.' But if you're here to upgrade your welfare status, welcome to your new home, future guaranteed voting block!"
The INS is now proactively identifying and filtering out those prone to assimilation. Creative approaches are being developed to stop the remaining small trickle of traditional immigrants who selfishly seek bourgeois independence, freedom, and the pursuit of happiness. When assimilation gets officially recognized as thoughtcrime, all suspected assimilators will be deported to their respective countries, and suffer the consequences of their moral and intellectual inaptitude.
You can post tips about your neighbors or relatives who might have tarnished themselves with potentially assimilating activities below in this thread; INS will be informed and action will be taken.
Upgrade status, demand benefits
In the past, a few seditious citizens of France who had posted on this site, had expressed a desire to leave their "stifling welfare system and to seek freedom and pursue happiness in the US" - and to do it legally. Luckily for the revolution, Kennedy's INS doesn't make provisions for downgrading your welfare status. These dangerous individualists will never see US employment nor citizenship.
Instead, the gate never closes for those seeking a welfare system that has not yet gone bankrupt. Upon receiving instructions about obtaining government grants and subsidies, and before they can hear the word "assimilation," these potential Democrat voters are placed under the Party's wing. The Party instructors hoard them into groups by language, origin, and skin color, assigning to each group a niche in the progressive hierarchy of class struggle against the US oppression. Some groups are less tractable than others, some don't like to be hoarded together based on "superficial" characteristics - but quite a few have helped us to achieve tremendous success in undermining the capitalist enemy.
Green Card: a game of chance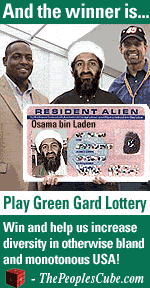 To confuse those who may still try to find logic in Comrade Kennedy's Immigration system, he introduced a
Diversity Lottery Program
(aka Green Card Lottery). "Act of 1990 (Pub. L. 101-649) amended INA 203 to provide for a new class of immigrants known as "diversity immigrants" (DV immigrants). The Act makes available 50,000 permanent resident visas annually to persons from countries with low rates of immigration to the United States." While creating the impression of randomness (which in our dictionary is another word for fairness), the lottery quotas and the interview process give us an even greater leverage in selecting future progressive voters.
In a way, the undocumented border crossings from Mexico follow the same lottery principle. If all moral criteria are removed and the best way of getting into the US is the game of chance, why not play a version of this game where the chances of success are higher - jump the border? We salute you, Mexican border jumpers! Soon you won't need to take any risks at all. Our goal as a social force is to remove all risk from your lives, leaving only small rewards for which you will have to pay us with loyalty and obedience for as long as you live.
Immigration glossary

To reinforce the guided "confusion" in immigration issues, the Party requires all media organs to amend previously released "newspeak requirements" aka the People's Glossary as follows:

Illegal Immigrant = Undocumented guest worker
Rape = Surprise sex
Drug Dealer = Unlicensed Pharmacist
Murder = unsolicited life termination
Bank Robbery = 2nd amendment withdrawal
Burglary = 2am furniture removal
Useful tips
Admission into the US is a function of proximity to the border.
Allow entry to anyone who will either upset the bourgeoisie, or have a busload of children who will eventually vote for us.
If anyone complains, indignantly point out the hypocrisy of using the migrants to mow their lawns.
If they say that the migrants urinate on their lawns and harass their daughters, scream at them - and let the world know that they are racists.
Organize the migrant workers! Union solidarity, brothers and sisters!
Collect union contributions, collect votes, collect money and power to wipe out the ruling capitalist class.

Premier Betty

Is it possible to leave the country undo being a citizen and come back as an "Undocumented Guest Worker"?


Red Square

"Mexico is not sending us their best." - D.J.Trump
By Associated Press
February 14, 2017
LAWRENCEVILLE, Ga. — An Atlanta-area man has turned himself in after he was accused of engaging in a sex act with a dog while working as a landscaper.
Citing jail records, news outlets report that 61-year-old Cruz Barreralugo turned himself in to authorities Monday.
A Lawrenceville man called police Saturday to report that he was playing in his yard with his nephew when they saw Barreralugo participating in "a lewd sexual act" with their dog. The man said Barreralugo fled when he realized he'd been seen.
Police say surveillance video captured the incident.
Barreralugo has been charged with bestiality and cruelty to children.