Opiate of the People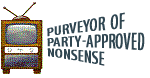 People's Consumer Products Proudly Presents....
The CLIMATE CHANGE DENIAL MACHINE

A source of politically and environmentally correct edutainment for the entire family unit!
Yes comrades, the brand new CLIMATE CHANGE DENIAL MACHINE, inspired by a turn of a phrase authored by Commissarka Pinkie in a recent post, (Pinkie, Al says to look for a new shovel in your mailbox soon!) is an educational and entertainment tool which will present comrades with hours of fun as they learn to properly debate and refute the propaganda and lies spewed by oil-company funded climate change deniers!
~
HOW DOES IT WORK?
The CLIMATE CHANGE DENIAL MACHINE is simple to operate and can be activated without calling upon state-approved technicians in most cases:
[indentr]1. Plug in the CLIMATE CHANGE DENIAL MACHINE
2. Wait 3 or 4 hours until solar or wind generated electric service resumes (Note: The CLIMATE CHANGE DENIAL MACHINE will NOT operate with fossil-fuel generated electricity!)
3. When the CLIMATE CHANGE DENIAL MACHINE commences operation, it will randomly spew hateful, anti-science propaganda as typically employed by oil-company funded climate change deniers. Comrade user must then answer these false arguments with factual reality-based statements - a book of suggested arguments is supplied with the machine in order to properly
program
prepare the user for street demonstrations or MSNBC debates.[/indentr]
The CLIMATE CHANGE DENIAL MACHINE is rugged and able to take numerous shovel hits in the event comrades decide to forcefully speak truth to power in the progressive tradition. It employs state-of-the-art People's Vacuum Tube technology which helps the machine generate more heat than light. And, it's portable - takes only 5 or 6 comrades to move! You can take it along to your next May Day celebration or Occupy encampment (extra long extension cord recommended.)
[indentr]
IT'S FUN! IT'S EASY! AND NOW YOU CAN IMAGINE YOURSELF TO BE A REAL LIVE CLIMATE SCIENTIST LIKE AL GORE OR PRINCE CHARLES!

GET YOURS NOW WHILE SUPPLIES LAST!
[/indentr]

ThePeoplesComrade

Nostalgia for the days of yesteryear:

Ted State
Perhaps a smarter comrade than me could make a Climate Denier Headline Generator that mimics the NYT headline generator which IMHO, is the all time best thing on this entire website. I studied journalism and even worked for newspapers and two very large TV network and that headline generator is perfect. TRUST ME ON THIS ONE.
If anyone tells you there is on liberal media bias, politely laugh in their face.
That last statement had a lot of judgement statements in it. All comrades are equal, global warming is real and there is no liberal media bias. There. I feel better now.

Proletariat Peabody

Komrad Fhalkyn,

What do you mean, "I want one for each bedroom"? I completely understand that you are deserving of and entitled to one, even though you have not earned it. That is, after all, The People's™ way. But "each bedroom"?? Do you expect to have more than one bedroom, even after you are given permission to procreate and have additional parasites that will live off of Mother Earth™? For shame! You'll have to sacrifice For the Children™ and get by with a combined bedroom/bathroom/kitchen/Temple to Dear Leader. We wouldn't want you to take sparse resources that could be put to better use by our betters, such as the Gore-acle, now would we?


Lenianna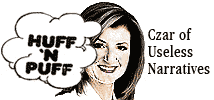 Thanks Opiate, we recv'd our Climate Change Denial Machine from a fossil fuel guzzling UPS truck yesterday, and haven't stopped practicing belittling deniers since.

The machine says:

[indentr]Dude, where's my global warming? Australia is having the coolest winter since 1953 despite CO2 levels.
The handy book says to answer, "Shut up Neanderthal! Statistics have no business in Climate Science!"

Antarctic sea ice is at a near-record extent and is expanding.
The denial machine book says, "Who cares? Don't you know the field of Climate Alarmism pays better?"

The polar bear population is thriving. Sea levels are actually dropping. Global temperatures have been in a cooling cycle since 1998.
"The science is settled(TM) and the debate was shutdown. You need to get up to speed Dork."[/indentr]
Having finished the Climate Change Denial Book I am now a qualified Climate Scientist and will go download my very own certification from the IPCC website!

For busy Comrades who don't have time for all that; or maybe you are tent-bound squat-u-pying to progress tyranny, just know all you need is to Believe in Globalwarming/Climatechange to download your certification from the IPCC.


Opiate of the People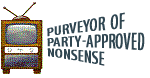 Comrades, I have some good news and some bad news for all of you.

The GOOD news is that we will all be getting a CLIMATE CHANGE DENIAL MACHINE FREE!

The BAD news is that the workers in the Chinese factory which makes the CLIMATE CHANGE DENIAL MACHINES do not work for free (well, the workers work for almost free but the politically-connected owners of the factory expect to be paid, BIG TIME) and they no longer want our paper currency so we have to give them REAL stuff.... the bad news is that for the next few months, there will be NO gas or food or a few other things that you might have found useful in the past.....

Enjoy your CLIMATE CHANGE DENIAL MACHINES!


Comrade Loaf
My CLIMATE CHANGE DENIAL MACHINE will not work without electricity! Notice how our Glorious Media, the Apoplectic Bull Carp TV network and other agiprop organs of the worker's movement cleverly refuse to publicize electrical blackouts in major urban centers as national news?
The brown outs and blacks out of Los Angeles from the '70's are now a common occurrence across the Workers North American Continent!
Which organizations seem to be in control? Well any organization named with the words "Electric Reliability" in them. For example, the Electric Reliability Council of Texas, ERCOT, or the North American Electric Reliability Corporation, NERC. And, so, instead of coal fired electricity that runs day and night, snow or shine, they advance wind energy that only works when it blows but not too hard, and solar for when the weather is nice and no one needs the electricity anyway.

Here is how the grand scheme can work. Cut off all electricity to every building in the US except mud huts that have no electricity, then ObamaKare's Death Panel becomes totally irrelevant as disease and famine take over to kill out the undersireable American kulaks and other arrogant property owners.

That my Comrades is a shovel ready plan..........................