Ambassador Sadesky

Our faithful spies in the West, the Rosenbergs, have just delivered another package of government documents to the Embassy. Among them was this little gem from FEMA.
It seems that their government is leading the way to a worker's paradise by teaching how to liquidate the oppressive classes. Of course, we in the USSR chose the more humane way during the purges by simply shooting them.
~
http://warskill.blogspot.com/2009/09/is-socialism-cannibalism-lite.html

Red Rooster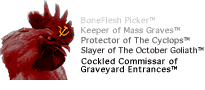 Comrade Sadesky,
Your People's Pictures are not working, here are instructions from Party Headquarters on how to fix this issue:

Comrade Whoopie

To paraphrase Scott Leigh, Socialists are averse to the hard work and risk taking that goes along with Capitalism. They have found an easier route to wealth and power. Socialism is just Capitalism for schemers.


Ambassador Sadesky

A quick re-edit


R.O.C.K. in the USSA

Ahhhh, Comrade Rooster's handy People's Cube Picture Uploading Instructions save the day!

I remember when I first came to TheCube™ as a wee lad, covered with dirt from the beet fields (ha ha, not much has changed!) and had a technical difficulty uploading a picture of then-president Ronald Reagan that I had altered with my Crayola™ crayon set. Fortunately, using these handy instructions I was able to pry open one of the disk drives on my dad's IBM 360 mainframe at his Party office with a screwdriver and poke the picture in sideways - and next thing you know, it had uploaded to TheCube™!